By Undiandeye Justina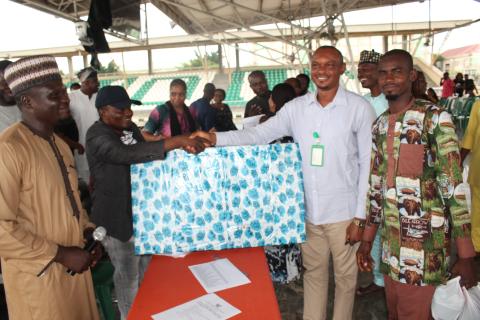 The Staff Multi-Purpose Cooperative Society of the National Open University of Nigeria (NSMCS) has held an Ordinary General Meeting, where it addressed certain critical issues as the executives reported significant matters to the members for input and approval.
The meeting, held on Thursday, July 13, 2023 at the university headquarters in Abuja, also was the emergence of Mr. Gimba Bashir of the Directorate of Learning Content and Management Systems as the new Vice-President, following the resignation of Mr. Williams Oshionebo, recently.
NSCMS president, Mr. Bala Lazarus Sabo, briefed the members on the cooperative's lands properties involved in legal issues and assured the audience that they were doing everything possible to resolve the matter quickly.
The president also reassured members that the EFCC case against a few cooperative members, including himself, had been resolved, saying that the allegations were levelled against them by an unnamed aggrieved rival within the community.
He said they had been open and cooperative with the EFCC throughout the resolution process, which led to the case being dismissed.
The executive members also addressed the issue of special loans, explaining that certain government regulations have affected and slowed down the progress of the property loan, stressing that plans are under-way to address the regulations and speed up the process.
They, however, disclosed that due to a lack of funds, the property loan was limited to N5 million, even as they urged members to look into other loan options that the cooperative provides.
In order to ensure a peaceful transition from one administration to the next, the president also requested support from the congress for the creation of an electoral committee, whose members would be announced at the subsequent OGM for the members to vote.
Log in to post comments
193 views