By Joel Nkanta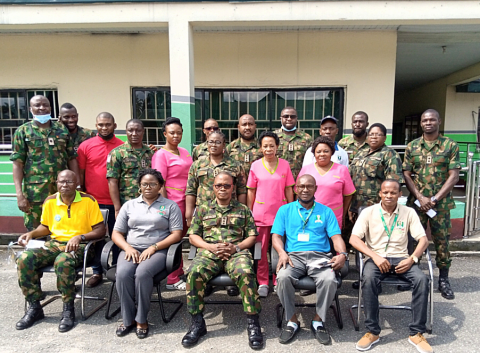 The director, Military Hospital, Port Harcourt, Rivers State, Col. A. A. Aloku, has described the National Open University of Nigeria (NOUN) as a credible alternative to the conventional university system in Nigeria.

Aloku made the remarks as he received the advocacy team of NOUN from the Port Harcourt Study Centre of the university on Wednesday in his conference room.

 He lauded the Federal Government for establishing the institution, and the management of the university for ensuring that the university makes available quality tertiary education for Nigerians at their doorsteps.

 The army chief, who received the NOUN delegation in the middle of the meeting of heads of departments of his organisation, said, "It is not everyone that can learn in the rowdiness of campus-based instructional environment as is obtainable in the conventional university system. It is not everyone that can stand the regimentation and incessant disturbance of lecturers on campus."

 "There are people who learn better in isolation. There are those who assimilate better when they self-learn in the comfort of their homes or offices. That is what NOUN offers, an opportunity to learn by oneself outside the conventional classroom settings. This, to me, has provided a balance," he added.

 "Those who choose campus learning will go to the conventional campuses; while those who prefer self-learning will embrace what NOUN offers. NOUN is even better for us who are fulltime service people. So, I call on my men to take advantage of this," he concluded.

The centre director, Port Harcourt Study Centre, Dr. Nnenna Nancy Chukwuma, had earlier elucidated on the programmes and operations of NOUN.

Her lucid presentation had opened a floodgate of interest as was epitomised in a barrage of questions during the presentation and a myriad of inquisition at the car park after the presentation.

Chukwuma, at the end of the session, presented Aloku with packs of customised NOUN souvenirs, while other members of the NOUN advocacy team distributed information brochure and flyers to all and sundry.
Log in to post comments
241 views