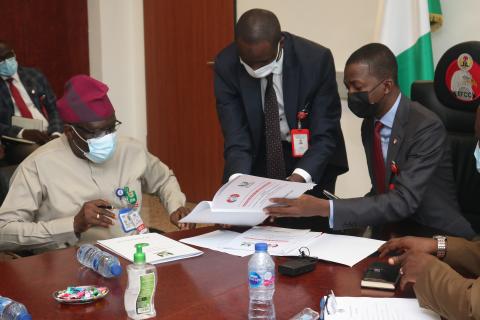 The National Open University of Nigeria (NOUN) has signed a Memorandum of Understanding (MoU) with the Economic and Financial Crimes Commission (EFCC) so as to formalise the two agencies' partnership.
The Vice-Chancellor of the university, Prof. Olufemi Peters perfected the MoU with the Chairman of EFCC, Mr. Abdulrasheed Bawa on Wednesday, 13 October, 2021 at the anti-graft agency's headquarters, Jabi, Abuja.
"I am delighted to be here with my team at the EFCC headquarters, my first visit to our neighbours since I assumed office as the Vice-Chancellor of the National Open University of Nigeria (NOUN).
"I am particularly glad to meet with you and your team, not only to return the courtesy visit paid to the NOUN earlier by your staff in August this year, but also to sign a Memorandum of Understanding to formalise our partnership and collaboration," the VC said.
While congratulating the EFCC chair on his assumption of office as the executive chairman of the commission, the VC said "the task is by no means a huge one with high expectations from Nigerians.
"But knowing your antecedence, you are equal to the task and I wish you God's guidance and wisdom as you navigate the stormy waters of Nigerian economic and financial crimes prevention."
Speaking further, Peters said due to increase in crime, cybersecurity is one of the programmes offered at the postgraduate level of NOUN's Centre of Excellence on Technology Enhanced Learning (ACETEL), saying that "it was the reason that NOUN sees this strategic partnership with experts like the EFCC.
"We are appreciative of your willingness to collaborate with the NOUN and of the time and resources you have deployed to contribute to our capacity building efforts through our programme particularly in the cyber security programme of ACETEL."
According to the agreement, the EFCC will provide guided access to its state-of-the art Forensic Laboratory for ACETEL postgraduate students on internship; joint conduction of short courses/seminars in cybersecurity and other areas of interest.
Also, the agreement includes allowing qualified EFCC staff to supervise and facilitate ACETEL Mac/PhD programmes in Artificial Intelligence, Cybersecurity and Management Information System as well as providing security documentation for the university when needed.
Earlier in his welcome address, the EFCC chair thanked the VC and his entourage for the visit, adding that having signed the MoU, the two institutions are going to benefit from it.
The VC was accompanied in the maiden visit to the NOUN's immediate neighbours by the DVC Technology Innovation & Research, Prof. Monioluwa Olaniyi; Registrar, Mr. Felix I. Edoka; Director, ACETEL, Prof. Grace Jokhtan; Director, LCMS, Dr. Adewale Adesina; Director, Legal, Barr Daniel Riki; Deputy Director, Transport and Logistics, Malam Isah Shehu, among other officials.
Log in to post comments
261 views