By Favour Egwu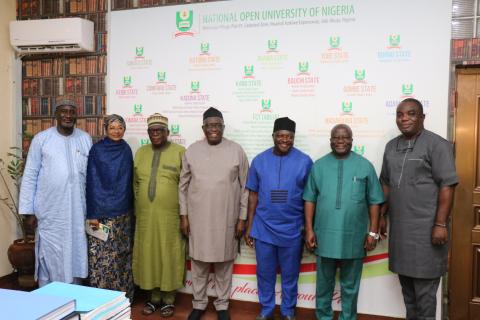 The Vice-Chancellor of the National Open University of Nigeria (NOUN), Prof. Olufemi Peters, has expressed satisfaction with the university's proposed expansion into sectors as transportation, care-giving, and procurement.
These developments, he said, signify the university's positive trajectory.
Peters stated this during a partnership meeting held recently at the university headquarters, where various Nigerian organisations' representatives gathered to discuss potential collaborations.
In his welcome remark, the Vice-Chancellor highlighted the significance of these partnerships, emphasising the uniqueness of the sectors involved and their alignment with the university's goals.
Notably, all the partnering organisations are home-grown entities, which resonates well with his administration's eagerness to foster local collaborations, he said.
Earlier, the Vice-Chancellor of Summit University in Offa, Kwara State, Prof. Abiodun Musa, who represented Auto Clinic Nigeria, an organisation specialised in automated car services, unveiled plans to integrate Auto Clinic's technical training into NOUN's curriculum, encompassing workshops, short-term courses, research, and access to advanced facilities.
Musa said this partnership would contribute to the sustainable advancement of the transportation sector.
In the same vein, Funmi Fasipa, representing Super Nannies Nigeria, outlined their collaborative proposal, focusing on providing professional and certified childcare courses at a tertiary level.
According to her, this partnership aims to enhance the care-giving profession, empowering Nigerians to embrace the role of caregivers while ensuring children receive educated and trained nannies.
On their part, the Procurement Academy, represented by their lead consultant, Mamman Yahaya, expressed interest in working closely with NOUN to establish a joint training programme specialising in procurement. #
Yahaya informed that the collaboration would also encompass the creation of modules for short-term courses and research.
In his concluding statement, the NOUN Vice-Chancellor extended gratitude to the organisations and their representatives for their interests in partnering with the university.
He lauded the quality of the proposals presented and expressed his confidence that the university's extensive student body and growing study centres would serve as a conducive platform for fostering these valuable partnerships.
Log in to post comments
94 views