Tope Oyewole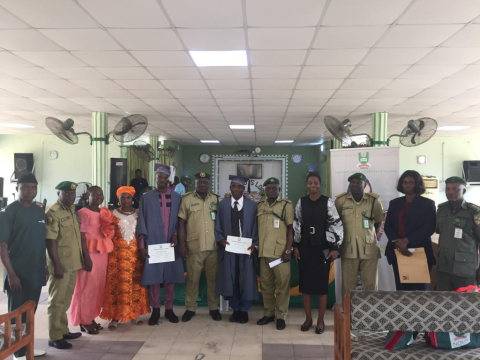 The Vice-Chancellor, National Open University of Nigeria (NOUN), Prof. Olufemi Peters, on Monday, June 27, 2022 conducted the issuance of certificates to graduated inmates at the Maximum Correctional Centre, Lagos.

At the ceremony, where the Vice-Chancellor was represented by the Deputy Vice-Chancellor, Technology, Innovation and Research (TIR), Professor Monioluwa Olaniyi, along side other senior officers of the university, top ranking officers of the centre, families, as well as well wishers of the graduates graced the occasion.

The graduates are Innocent Ogbonnia (M.Sc Public Administration), Abafe Syvelster (B.Sc Criminology and Security) and Udofia Morgan Maurice (Peace Studies and Conflict Resolution).

Olaniyi, while delivering the speech, stated that the VC had insisted that senior officers of the university must visit the correctional centres in the country to present certificates to the inmate graduates.

She underlined the importance of the partnership between NOUN and the Nigeria Correctional Services in educating and ensuring that inmates who wish to further their studies make something of themselves even while incarcerated.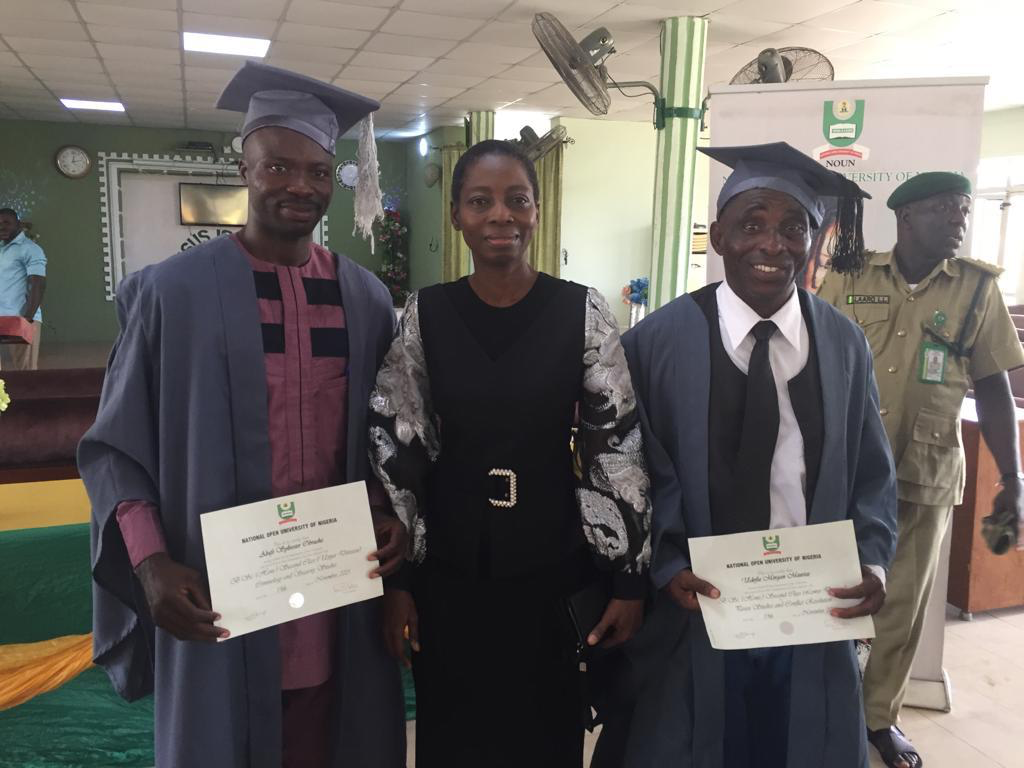 "Students in all custodial centers that we have, I want us to note that education brings about psychological and emotional correction. It also liberates. NOUN provides access for all, irrespective of gender, position, rank, status and even those that are impaired.

"The federal government of Nigeria has set up NOUN to ensure access to education to all at whatever level," she added.

The DVC highlighted the fact that the university had a hybrid convocation ceremony in March, 2022 in all study centres, but the correctional service could not connect.
That, according her, was the reason it was deemed necessary to present the certificates to inmates physically.

She also urged present students "to make use of the recent innovation of e-ticketing, which is becoming easier for the institution to relate with the students and it's a platform for them to lay their complaints, observations and other related issues as all would be attended to within hours."

the representative of VC  commended the Comptroller General of the Nigeria Custodial Services and all the officials for providing and  maintaining the facilities used by NOUN and also for their unwavering support.

In his brief welcome address, the representative of the comptroller, DCC A.O. Aremu, congratulated the graduates on the completion of their formal education.
He advised them to grab the opportunity it presents to become better persons outside the centre.

Aremu appreciated the university for the opportunity given to the correctional centre to have a centre in Lagos Command.

At the end of the ceremony, certificates were issued to the graduates, which was followed by group photographs.
Log in to post comments
115 views