Tope Oyewole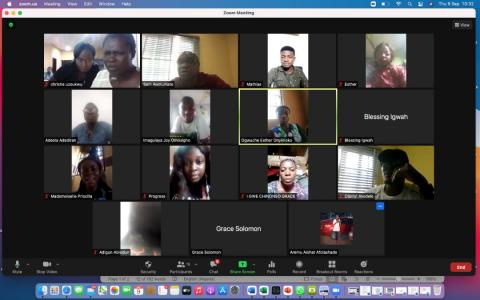 It was a mixture of excitement and satisfaction at the National Open University of Nigeria (NOUN) Lagos Office as the South-West Incubation Study Centre organised a demo version of  virtual exhibition of products, services and research for students.

The event, which took place on  9th of September, was more of a rehearsal for the main programme which comes up on the 15th of September, 2021.

The virtual exhibition witnessed an impressive turnout on the popular video conferencing platform- Zoom; 13 incubates joined in from different parts of the South-Western region to showcase their products and services.

 Various brands were also displayed with products ranging from designer corporate dresses, organic baby cereal, stylish plain and pattern Ankara dresses as well as female ready to wear clothing.

 Others include wigs, hair shampoo and conditioner, varieties of shoes called twinning, liquid soap, a box of jam-filled doughnuts and milk bread.

The students also exhibited products like- natural fruit juice, children's ready to wear clothes and handmade bags. Materials used for the production of the various products were all locally sourced.

Speaking at the event, Dr Sam Awolumate, the Coordinator, South-West Incubation Centre, expressed delight at the success recorded at the exhibition.

He extolled the creativity of the students, describing the exhibition as a combination of hard work and dedication.

 Speaking further, Awolumate said the brands exhibited are of international standards and can compete favourably in the foreign market.

Meanwhile, data used by students that joined the one hour programme was paid for, as a morale booster and a way to encourage their hard work.

Highpoint of the event was the presentation of two products by different brands- ready to wear baby outfit and beautiful handmade bags designed and produced by two students.
Log in to post comments
151 views