By Sunday Adama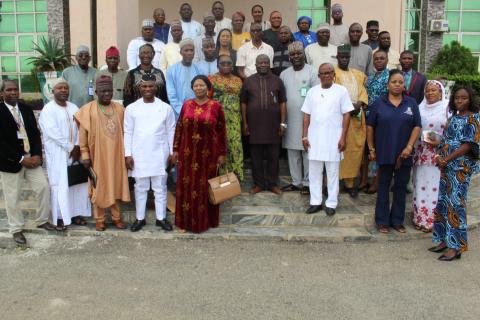 Effective and efficient service delivery is the solution to inefficiency and low productivity in the Nigerian tertiary institutions, the National Universities Commission Parastatal SERVICOM Committee (NUC PSC),  has said.
The NUC PSC stated this during its 2023 2nd Quarter National Universities Commission Parastatal SERVICOM Committee (NUC PSC) meeting held on Wednesday 23 and Thursday 24, 2023 at the headquarters of the National Open University of Nigeria (NOUN), Jabi, Abuja.
The meeting attracted Nodal and Focal Officers from Ministry of Education,  officials from the National Universities Commission (NUC) and universities across the country.
In his welcome address, the Vice-Chancellor of the National Open University of Nigeria (NOUN), Prof. Olufemi Peters represented by the Deputy Vice-Chancellor (DVC) Administration, Prof. Isaac Sammani Butswat thanked the servicom officials for choosing NOUN as the host of the meeting.
Prof. Butswat, while commenting on the topic of the meeting,  added that the topic is timely,  "quite interesting and apt".
In his paper presentation titled, "Managing Service Delivery in the Universities: Strategies and Challenges",  the Focal Officer, SERVICOM, University of Ibadan (UI), Prof. Oluseyi Ezekiel Awe identified some challenges facing SERVICOM which according to him include: lack of official utility vehicle, poor finance or impress, staff negative attitude,  frequent transfer of servicom staff, slow pace or no implementation of useful suggestions among others.
In a 7-point Communique signed by the  Chairman NUC PSC,  Mal. Musa Ilyasu and Chairman, Communiqué Committee, Prof. Nnenna Frank-Peterside the Committee said, "Provision of the Service Charter is a prerequisite for delivering on the mandate of SERVICOM. Hence, institutions should endeavour to launch or review their Service Charters as soon as possible.
"Adequate funding and provision of utilities are required for proper functioning of a SERVICOM Unit.
"For SERVICOM Units to be vibrant, the support and commitment of Management, especially the Vice-Chancellor is pertinent.
"Management should encourage staff to maintain a healthy work-life balance.
"SERVICOM staff should not be redeployed indiscriminately, otherwise it will have adverse effect on the performance of the Unit which depends largely on staff training and experience", the Committee said.
Meanwhile, there were goodwill messages from the Director/Head SERVICOM, Federal Ministry of Education, Abuja, Mr. Ogunkunle A. Sunday and the National Coordinator, Mrs. Nnenna Akajemeli represented by Head of Operations, SERVICOM office, Abuja, Mrs. Akinbodewa Ngozi.
The highlight of the meeting was the presentation of  reports of  SERVICOM activities by the Focal Officers from different universities across the country.
In her vote of thanks, the NOUN SERVICOM  Nodal Officer, Mrs. Eunice Riki thanked the participants for attending the meeting.
Log in to post comments
78 views