By Favour Egwu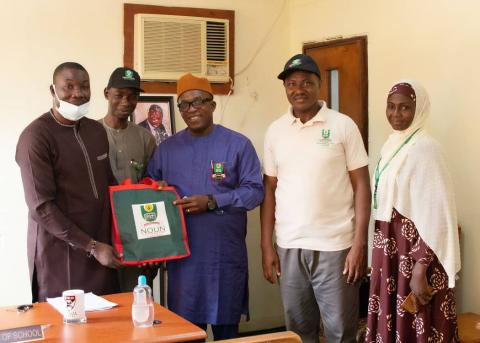 The Offa Community Study Centre (CSC) of the National Open University of Nigeria (NOUN) has paid a courtesy visit to the Nigerian Police Force Area Command, Okin High School and Adesoye College all in Offa, Kwara State.
 Assistant Commissioner of Police (ACP)  of the command, Mr. Samuel O. Isaac, who welcomed the advocacy team of the centre, expressed his commitment to enrolling in a program of interest next semester.
Isaac went ahead to encourage his officers to do the same because NOUN, according to him, makes working and studying easier.
 The visiting team, led by the centre director, was greeted enthusiastically by the ACP and other officers of the Nigerian Police Force Area Command, Offa.
At the Okin High School, the principal, Mr. Balogun Bashir Areola, also greeted the team and told them that he and his staff were already prospective students ready to enroll next semester.
At the last stop, the team had an interactive session with the principal and staff of Adesoye College.
Log in to post comments
105 views