By Joel Nkanta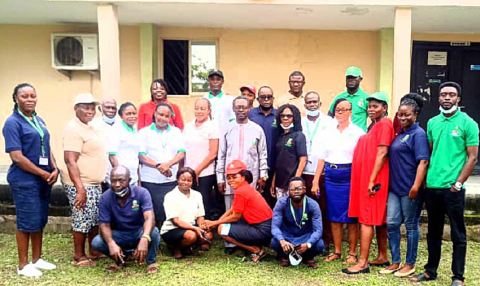 The Director, Learner Support Services (DLSS), National Open University of Nigeria (NOUN), Prof. Gregory Okagbare, has charged members of staff of Calabar Study Centre, Cross River State, to uphold good maintenance culture in order to ensure longevity of facilities at the centre.

Okagbare gave the charge as he interacted with staff of the centre during his unscheduled visit last Wednesday.

The DLSS, who embarked on facility tour of the centre on arrival, inspected ongoing and just done projects at the centre, which included re-ceiling of the e-Exams Hall, raising of the perimeter dwarf fence, the newly constructed security post, and the renovation of the Main Auditorium.

Okagbare, who expressed satisfaction at the standard of work done on the projects, also commended the environmental staff for doing their jobs well.
He also enjoined all staff to take their jobs seriously especially as jobs are not easy to come by in the country at the moment.

The centre director, Prof. Onyeka Iwuchukwu, in her welcome remarks, thanked Okagbare for taking out time to visit Calabar Study Centre.
She also hoped that management would look into some challenges, like portal and TMA issues, which members of staff observed and pointed out during the interactive session in order to boost the morale of students and of the staff, who are directly interfacing with the students on a daily basis.
Log in to post comments
98 views