By Inuwa Hamza Yunusa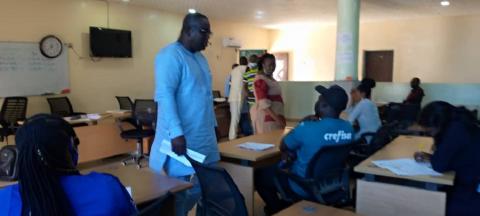 A Deputy Registrar, Academic Registry, Mr. Ajayi Oladipo, has monitored the administration of the ongoing 2022_1 Pen-on-Paper examination at Kagoro Study Centre. 
Mr. Oladipo, expressed satisfaction with the way the centre is handling the exercise. 
He said the purpose of monitoring the conduct of the examination is to ensure that all study centres comply with all the rules and regulations governing the conduct of examination in NOUN.
He added that they monitor to ensure that study centres do not compromise standard set by the university management.
"This has contributed positively towards successful exercise in  the university in recent times," said Oladipo. 
Moreover, he said the monitoring do not only ensure that standards are not compromised but also the management get to understand where the study centre is lacking and the need for improvement. 
This has also served as an avenue through which physical infrastructure of the centre were assessed and recommendations made to the management for further necessary action, he added. 
He commended the management of the centre for the good job they have been doing. 
"I came to the examination hall and saw the seating arrangement, it was excellent, indeed the standard of the university," Oladipo said. 
He further commended the centre for making the security architecture impressive and the environment conducive for effective learning. 
Dwelling on the staff of the centre, he reiterated that the staffers have shown high sense of responsibility in the aspect of exam supervision.
He urged the centre management to deploy more of its advocacy so as to create more awareness on the existence of the centre and the university as a whole. 
As to the realization of successful conduct of examination, the Deputy Registrar advised the management of the centre to be up and doing and ensure that their duties are performed in accordance with the laid down rules and regulations of the university. 
He promised to forward all the advises and complaints realised to the management. 
He assured that the management is ready to listen to the centre's suggestions and advises at any given time.
Log in to post comments
120 views