By Favour Egwu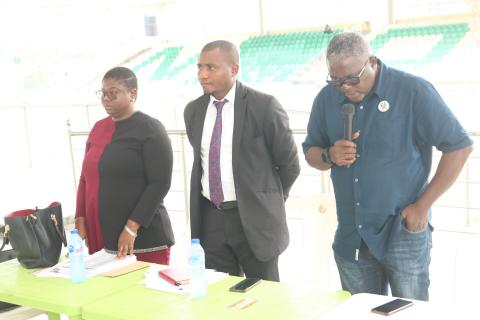 The Crusader Sterling Pensions Limited (CSL) has told its contributors in the National Open University of Nigeria (NOUN) that sequel to the recent updates and developments in the Pension Industry, henceforth only 25% of a Retirement Savings Account (RSA) Fund can be accessed.
The percentage is on the condition of a contributor being jobless for up to four months or in a situation where the contributor is set to relocate to another country.
A representative from the PFA, Mr. Samuel Chinonyerem, stated this during a 1-day interactive session with staff held recently at Convocation Arena of the university in Abuja.
Chinoyerem said over the years, certain updates have been made in the pension industry because of its rapid growth: "from the ability to switch from one PFA to another and the creation of a multifund structure for RSA funds.
'"Fund 1' for young contributors based on choice, 'Fund 2' for young and middle-aged contributors (age 49 years and below), 'Fund 3' for pre-retirees (age 50 years and above) and 'Fund 4' for retirees."
He reiterated that the RSA fund was strictly for retirement and, therefore, "these safety nets were placed for good, so the contributor can benefit at retirement."
The representative explained that pension industry has four stakeholders: the pension commission, which is government-empowered to regulate activities of the pension industry, the pension board administrators, employers, who make remittances on the employee's behalf and the pension contributor.
On his part, the Chief Insurance Officer of NOUN, Mr. Awoyomi Paul Ebony, thanked the Crusaders Sterling Pension Plc. for reaching out to the university to hold this interactive session.
Ebony said the objective behind the session was to create awareness for the university staff who had very little knowledge about retirement and the pension industry.
He described the interactive session as an ample opportunity for such staff to throw-in their questions and complaints for a first-hand feedback and also an opportunity for the PFA to market their product for staff, who can switch if their own PFA were not doing well for them.
The officer added that the interface was organized to answer and clear lingering doubts in the minds of the contributors as they are the most important stakeholders of the pension industry.
Ebony explained that these RSA funds were created for contributors to have options on where to put their money.
Executive Director of Crusader Sterling Pension Limited, Mr. Femi Odukoya, who anchored the questions and answer session, encouraged staff of the university to switch to his company and spread the word about crusaders as there is a lot to gain from it.
Log in to post comments
112 views