By Undiandeye Justina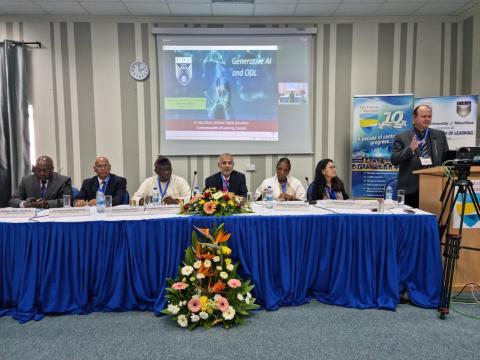 The Vice-Chancellor of the National Open University of Nigeria (NOUN) has attended the 15th Meeting of the Executive Governing Board of Commonwealth Executive Masters of Business Administration and Masters of Public Administration (CEMBA/MPA).
The event, held on Tuesday, October 3, 2023 took place at the Open University of Mauritius (OUM).
On Wednesday and Thursday, October 4 and 5, Peters served as a Distinguished Guest Speaker during the High-Level Round-table for Vice-Chancellors hosted by OUM.
In the milestone event, the African Higher Education Centre for Excellence recently hosted a workshop titled "Sustaining Progress and Celebrating a Decade of Change."
The workshop was aimed at reflecting on a decade of advancements in African higher education and chart a course for future growth.
Scholars, educators, and policy-makers from across the continent gathered to discuss key achievements in the past ten years.
Topics included enhancing research capacities, fostering innovation, and improving access to quality education as presenters highlighted the Centre's role in driving transformative change.
The event also provided a platform to address challenges such as funding constraints, curriculum relevance, and the digital divide, while participants engaged in dynamic conversations, sharing best practices and innovative solutions.
As the continent continues to evolve its higher education landscape, the workshop served as a testament to the progress made and the commitment to further excellence.
It is expected that the insights and collaborations forged during the workshop will contribute to the sustained growth of African higher education institutions.
Log in to post comments
294 views