Sunday Adama & Nwanna U. Rita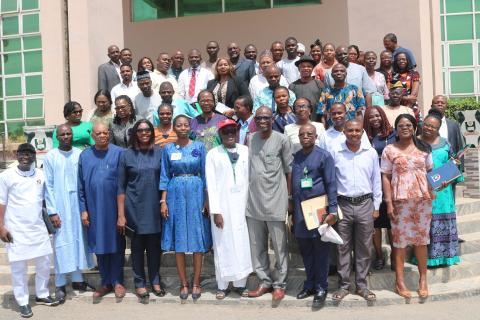 In a bid to take the institution to an enviable height, the Vice-Chancellor,  National Open University of Nigeria (NOUN), Prof. Olufemi Peters, has instituted a university senate's special research grant for the teaching staff.
Peters disclosed this on Tuesday, February 16, 2022 during the flag-off ceremony of the 32 research projects at the university's headquarters, Jabi, Abuja.
"You will recall that I presented my agenda to you, for the development of the National Open University of Nigeria (NOUN) during my first senate meeting as Vice-Chancellor. Amongst others, I clearly spelt out my desire to make research a critical component of our functional output as a university.
"I informed you that we shall create an enabling environment for scholarship and quality research. Consistent with this goal, I instituted a Senate Research Grant in the sum of N100m," he said.
Speaking further, the VC said to facilitate research grant, the management had set up a University Senate  Committee to work with the Directorate of Research Administration (DRA) to manage the process of appraisal, acceptance, disbursement of fund and monitoring of approved research projects.
"This activity is being carried out within the ambit of providing enabling environment for teaching and researching. We have started to create the enabling environment for research and professional development, as well as mentorship through team work and, hence, capacity building of our academic staff.
"The journey of a lifetime will always begin in a day, but does not end until you reach the end. Please note that proving funds for research is foolproof of an enabling environment because it can provide other complementary factors that are required.
"We gather today to commence the actualisation of this landmark objective, through the launch of 32 projects, which will soon, by God's grace, lead to even more giant strides towards sustainable growth and development of our university," he said.
The VC told participants that "although the senate-instituted research grant is annual, high quality research proposals are required to access the funds.
"Seeing that there is room for more beneficiaries, I look forward to having many more academics express interest in the acquisition of relevant skills to develop award-winning research proposals that would result in ground breaking results, which we can proudly publicise."
He, therefore, urged the principal researchers to take cognizance of the demand of a high-level of accountability.
On his part, the Director, Directorate of Research Administration (DRA), Prof. Joseph Omada,  thanked  the VC for approving the internally-funded research grants for the university's academics.
He said at the end of the exercise, 32 papers will be published in high index, Scopus and reputable journals, adding that it would give NOUN global research visibility and drastically improve its ranking.
Log in to post comments
312 views