By Inuwa Hamza Yunusa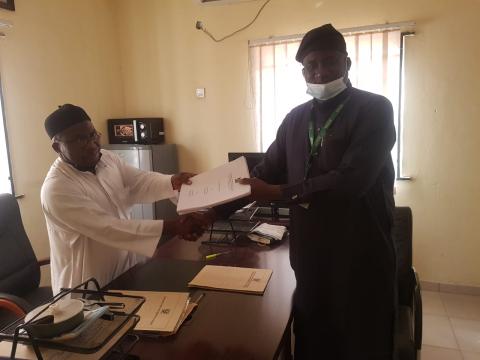 The Management of the National Open University of Nigeria (NOUN) has approved the appointment of the Director, Kaduna Study Centre, Dr. Aminu Umar as the new Director, Centre for Human Resource Development (CHRD), Kaduna. 
In a brief ceremony held at the Kaduna Campus of the university on Friday, January 28 2022, Umar officially took over affairs of the centre from its immediate-past director, Prof. Sama'ila Mande, who was appointed in September, 2021.
A letter, dated 11 January 2022, and signed by the Director, Human Resources, Mr. John J. Ubaji, conveyed that the Vice-Chancellor, Prof. Olufemi Peters, has approved the appointment of Umar as the new helmsman of CHRD, with effect from Wednesday, 19 January, 2022. 
The letter stated that the appointment is for a period of two (2) years in the first instance and renewable for a second and final term of two (2) years, subject to satisfactory performance. 
It further said as the director of the centre, Umar is responsible to the Vice-Chancellor for the day-to-day administration of the centre. 
"Additionally, the appointment is in addition to your official schedule as Academic Staff in the Department of Political Science, Faculty of Social Sciences," it said. 
Shortly after assumption of duty as the new director, Umar organised a 1-day seminar presentation to the senior staff of the centre. 
The presentation was in line with the agenda of the Vice-Chancellor, Prof. Olufemi Peters, which carried the slogan: "Wax Stronger and Grow Greater." 
He quoted the VC as saying that "we must be creative ingenious and ready to multi-task in our work role, we must accept that overall goal is to create environment that encourages and motivates our staff to achieve self-actualisation. 
"I will expect all the university staff irrespective of their roles to give maximum through their daily work." 
The director said attitude determines how people perceive the work environment, interact with others and behave on the job, even as he outlined that delivery of superior performance overtime, qualitative or unique consumable service or product, productivity and distinctive impact are amongst those variables that make an organisation great. 
He added that CHRD is a leading community service provider for NOUN, and highlighted some of the wrong attitudes that would not be entertained in the work place, thereby outlining the consequences for such acts.
The director substantially discussed the roadmap to building a positive self-esteem in the 21st Century work place. 
Umar, therefore, reminded them that "You are the Centre for Human Resource Development as the image of CHRD is created by you and no one else."
Log in to post comments
432 views