By Mba Ude Ude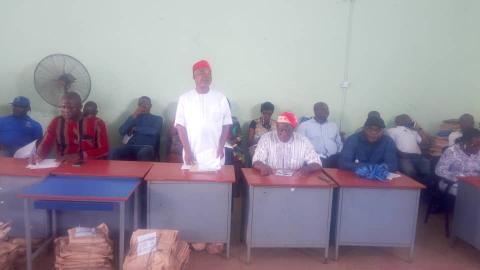 The Coordinator of the 2021_1 Conference Marking in the South-east geopolitical zone and Dean, Faculty of Education, NOUN, Prof. Uchenna Sydney Ajunwa Osuji, has said the 2021_1 exercise is a task force assignment scheduled for completion within the time frame.

He disclosed this while briefing the subject officers drawn from the eight faculties of the institution at Enugu Study Centre, Enugu State.

While explaining that the university management holds the conference marking in high premium, Osuji also reminded them of their "tripartite beings," which, he said, must be strong and alive in this all important assignment.

The dean emphasized the need to be diligent, punctual, available and accessible and implored them to operate as a NOUN family without raising any dust among them.

He used the opportunity to reel out their duties coupled with the rules and regulations guiding the conference marking exercise and stated that the institution would not condole lackadaisical attitude as well as unauthorized engagements.

The coordinator appealed to the subject officers to be meticulous, dedicated and fast to ensure a prompt completion of the work within the stipulated time, and drew their attention on the importance of handling the examiners with dignity and politeness.

He cautioned the subject officers on the dangers of handling the scripts with levity, as many people's lives are attached on the outcome of the scripts, "therefore, we must imbibe the culture of carefulness in the discharge of our duties."

Osuji reiterated that a daily attendance with each person's signature must be duly observed, as the monitoring teams would use it for checks and balances.

The examiners were exposed to the intricacies of identifying unacceptable scripts to include, among others, envelope not captured, irregular signature and un-stamped envelope.

He told them that in case of any challenge, they should consult him for prompt assistance, while the DMIS & DEA staff are available for technical and logistics supports respectively.

The centre director, Prof. Alexander Uche Onyia, on his part, appealed to the subject officers to treat the examiners with maturity, as they are partners in progress and opined that even distribution of scripts would facilitate prompt delivery on the part of examiners.

The representatives of DMIS & DEA at Enugu were Suleiman Tijani & Andekin Ande and Nwannah Kenneth respectively.

However, all the subject officers representing the eight faculties of the university were virtually present at the briefing.



 
Log in to post comments
139 views