By Inuwa Hamza Yunusa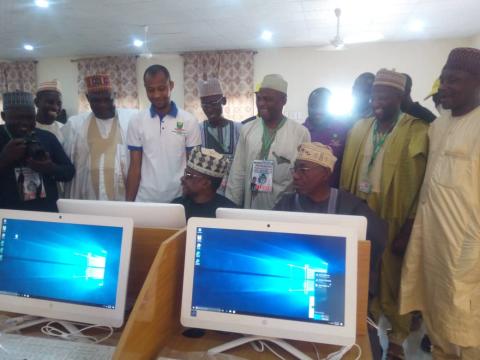 As part of his Constituency project, a member representing Katsina federal constituency, Hon. Salisu Iro Isansi, has sponsored the construction and subsequently commissioned the Information and Communication Technology Centre at Katsina Study Centre.
While delivering his address, the member reflected that the construction of the ICT centre was assigned by His Excellency, Dallatun Katsina, Rt. Hon. Aminu Bello Masari, the Executive Governor of Katsina State, to be built at Katsina Study Centre.
"We are now here for commissioning the project by the grace of Allah, since it has been completed," said Isansi.
He appealed that the ICT was constructed and furnished and hoped that it will be maintained by the NOUN Katsina Study Centre and benefited by the Katsina people.  
He called on his colleagues to emulate and facilitate similar projects for the benefit of the people of Katsina state. 
However, he prayed that the project will pave way to paradise.
Commissioning the project, the Permanent Secretary, Ministry of Health, Dr. Bashir, who represented the Deputy Governor of the State, Alhaji Mannir Yakubu, appreciated the Executive Governor of Katsina State and Hon. Isansi for having this foresight. 
He maintained that the project is not meant for the people of Katsina Local Government alone rather is a project for the State as a whole.
He stressed the need for more of the project at the Centre being university the highest element in education. 
He added that education driven is part of the restoration agenda of His Excellency, the Governor of Katsina State.
He applauded Hon. Isansi for doing very well by bringing this kind of project to Katsina State.  
He prayed  the project will meet the expectations of the good people of the state. 
Further called on the stakeholders at the event to also facilitate projects that will touch the lives of people  Which is a legacy that will go beyond us. 
Leading the sponsor of the project and his entourage into the ICT Centre, the Director Katsina Study Centre, Dr. Babangida Iro, who stood for Vice-chancellor NOUN Professor, Olufemi Peters, expressed his contentment for witnessing the historical day.
Dr. Babangida further extended the warm felicitation of the Vice-chancellor who was supposed to be part of the great moment but could not due to other official engagements. 
He applauded  the Hon. Member and the good people of Katsina for considering NOUN worthy and that the project will be judiciously utilized for the good people of Katsina State and Nigeria at large.
However, on behalf of the entire staff of Katsina Study Centre, he further  appreciated the  good gesture made by the Honorable member stating that this is a bright legacy to leave behind. 
He intimated that NOUN donated land while all other things ranging from the physical structure to the furnishing of the building were provided by the Honorable Member.
Dr. Babangida further informed the personalities that the project is not only for NOUN, Katsina Study Centre but Katsina State and Nigeria at large. 
Log in to post comments
162 views