By Favour Egwu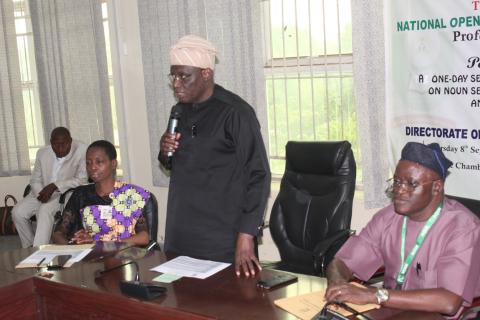 The Vice-Chancellor, National Open University of Nigeria (NOUN), Prof. Olufemi Peters, has said that research will propel NOUN to global significance, increase awareness, and establish a culture.  
He stated this while declaring open a 1-day sensitisation workshop titled  "NOUN Senate Research Grant Process and Methods," organised by the Directorate of Research Administration (DRA).
The workshop, held at the university's headquarters, Jabi, Abuja, gathered all academic staff of the university. 
The Vice-Chancellor rallied academicians to take research seriously, saying that it was the third most important task after completing course materials and exams, even as he commended the directorate for putting this workshop together.
Peters stated that additional seminars of this nature will be held to enhance crucial abilities including grant and report writing capabilities.
"I want to beg you to take part in this training because it's about expanding your ability and capabilities," he said.
Director, Research Administration, Prof. Joseph Omada, on his part, thanked the VC for giving his not to the workshop, which, according to him, will help the university community I carrying out the NOUN research policies and activities.
Omada stated that NOUN is anticipated to spearhead research efforts with a view to setting the pace in Africa, fostering innovation and excellence that would be helpful, and luring chances for partnerships and internal/external funding for researchers in the university.
Additionally, he noted that the National Universities Commission (NUC) and TETFund, among others, are directing the directorate to develop policies for research administration in universities.
One of the goals of the "NOUN Research Policy," according to Dr. Matthew Oguche, who presented a paper about the topic, was to provide a thorough framework for coordinating the structure, development, and implementation of all research activities at the university.
It also aims to encourage a strong research culture, strengthen and enhance research scholarship for staff and students, he added.
During her presentation on the "NOUN Policy on Research Ethics," Dr. (Mrs.) Ada Ozigbo stated that NOUN recognises its obligation to ensure that the highest standards of integrity and professionalism are observed in the conducts of research at the university.
"The policy is intended to support the institution's commitment to intellectual freedom, facilitate research, and promote a culture where researchers think on the ethical implications of their report," said Ozigbo.
In his presentation on the "Intellectual Property (IP) Policy at NOUN," Dr. Musa Runde stated that the policy "is intended to provide assistance and direction regarding market exploitation, ownership, and revenue from intellectual properties while also directing the utilization of NOUN resources and facilities in a way that is advantageous to both intellects and NOUN."
In their separate lectures, Dr. Madu Galadima and Segun Buhari provided online demonstrations on how to access and apply for the Senate Research Grant through the DRA website and how to utilise the Turington programme.
Log in to post comments
98 views