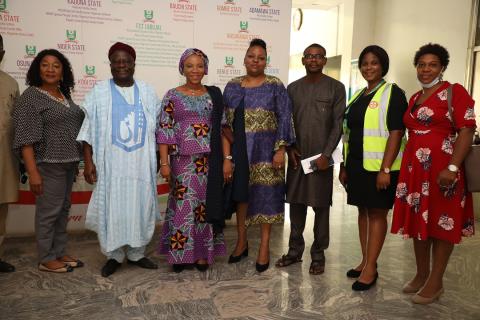 The National Coordinator of SERVICOM, Mrs. Nnenna Akajemeli has visited the National Open University of Nigeria (NOUN) for an advocacy as well as to build a relationship with the Management of the University.
Akajemeli, who led a team for the October 26, 2021 visit to the University Headquarters in Abuja, also hoped that the visit would afford her the idea on how the SERVICOM Unit in the university operates.
While welcoming the team to the university, the Deputy Vice-Chancellor, Administration, Prof. Isaac Butswat, who represented the Vice-Chancellor, Prof. Olufemi Peters, expressed his pleasure at the introduction of computer-based assessment as it had mostly eradicated the issue of missing scripts.
He said while complaints from students were valid, the students were equally culpable in some issues, like using wrong matriculation numbers or double academic issues.
Butswat commended the NOUN VC for his immense support and encouragement with regards to staff training, not just SERVICOM staff but the entire staff of the university.
The DVC also lauded the SERVICOM unit for its prompt and diligent attention to issues, by making students' complaints as their top priority, thereby spilling over to other parts of the university where the needs of students are of prime concern.
Earlier in her speech, Akajemeli praised NOUN for the creation of the SERVICOM unit in the university and stated her happiness at the progress the unit has made so far.
She welcomed the unit's contributions in the enhancement of learning and access for learning to otherwise disadvantaged students without access to educational resources, especially in post-secondary education.
The coordinator also commended the unit for its citizen-centered approach in creating awareness and providing information, adding that their dedication to properly informing the students and finding solutions to their complaints has led to a heightened expectation from them.
On her part, the Focal Officer/Head SERVICOM of the university, Mrs. Eunice Riki thanked the Vice-Chancellor, who is the Chairman/CEO of SERVICOM Unit in NOUN for accepting the advocacy visit.
She informed members that complaints are treated in less than three days and students are responded to as soon as possible.
Mrs. Riki, who assured members of the continuous quality service delivery to customers and stakeholder, also informed them of a plan to hold the SERVICOM Annual Day and review of NOUN SERVICOM service charter.
Log in to post comments
16 views