By Mba Ude Ude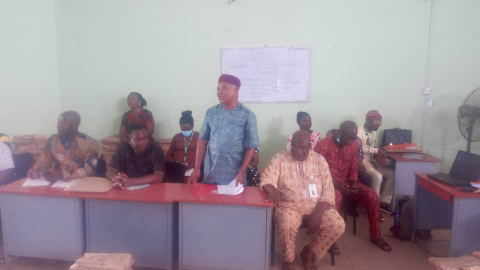 The Coordinator, Southeast conference marking zone and Dean, Faculty of Education (FOE), Prof. Uchenna Sydney Ajunwa Osuji, has described the marking exercise as a normal ritual where the future of many lives are decided.

Osuji disclosed this when briefing the examiners during the 2021_2 conference marking at Enugu Study Centre, Enugu State.

 While expressing great confident on the ability of markers to deliver scripts promptly, Osuji also implored them to ensure the collection of marking guide from their respective faculties to enable them mark objectively as possible.

 "If you are privileged to get scripts and you have another assignment that would not allow you to give  us the required attention during this period, you are kindly advice to decline", Osuji stated.

The dean explained the need to be meticulous so as to avoid missing of  scripts, even as many lives depends on the outcome of the scripts.

 The Professor of Measurement and Evaluation emphasized that examiners should confirm the scripts allotted to them as it were better to return more scripts during submission than the contrary.

Osuji explained that there are  three types of  conference markings, namely, strict, partial and flexible conference marking and the university opted for flexible conference marking where the examiners were allow to take scripts to their offices or homes, hence the need to be careful in handling peoples  futures.
.
 According to Osuji, we depends on the markers to fight against academic corruption by checking signs of examination misconducts which among others included scripts not properly captured, scripts without stamp and signature, double submission of scripts, scripts with irregular signature, stamp and envelope, scripts with irregular handwriting.

 While reiterating that eligibility for conference marking   are Ph.D degree holders, Osuji also said that even distribution of scripts would bring about effective delivery of scripts. 

He admonished them to notified him in case of any challenge for  timely intervention.

The representatives of DEA for logistics and DMIS for technical supports were Onyekwelu Ifeoma, Olaniyi Abimbola and Ande Andekin respectively.

 The centre director, Prof. Alexander Uche Onyia, appealed to examiners to provide correct and accurate account details to avoid unnecessary delay in payment.

Earlier, Osuji had briefed the subject officers drawn from the eight faculties of the university and appealed to  them to be painstakingly in handling scripts as many destinies depends on it.

He reminded the subject officers of their duties as well as the rules and regulations guiding the conference marking, even as Osuji cautioned on dangers of abandoning official assignment to engage in other frivolous activities.

 Osuji stated the importance of cooperation,   commitment and unity as a house divided against itself cannot stand.

The centre director, Prof. Alexander Uche Onyia, advised the subject officers to be polite with the examiners as they their colleagues in the academia.
Log in to post comments
142 views