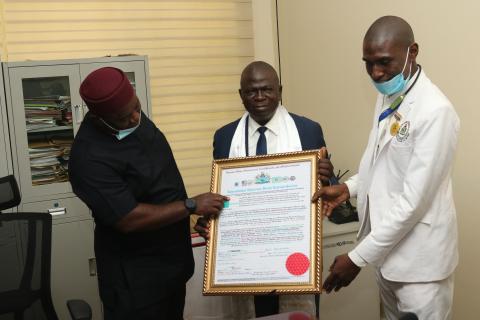 The International Chartered Worlds Learned Society has inducted Prof. Nebath Tanglang into the body and awarded him with its highest award of fellowship over his contribution to sports management in the country.
Tanglang, a professor of Sports Management in the Faculty of Education received the award in a ceremony held at the headquarters of the university in Abuja, and watched by the Deputy Vice-Chancellor Academic, Prof. Uduma O. Uduma, with representation from all the departments under the faculty.
Presenting the fellowship award to the awardee, officials from the International Chartered Worlds Learned Society, Prof. Bashiru Aremu, and Dr. Suleiman Taiwo, Hassan who gave brief speeches on the importance of such recognition.
Hassan, while listing the vision and mission of the body, stated that the US-based institute aims to encourage excellency in all spheres of educational attainment and to equally encourage and create academic excellence that will produce the best scholars of international standards.
On his part, Prof. Aremu, a UNESCO laureate, explained that each and every person was a learned fellow in their own field and a learned person was a person that had acquired knowledge through study.
He said Prof. Tanglang, chosen because of his knowledge and contribution in the area of sports management, has reached the zenith of his career and his recognition was approved by the principal officers of the society worldwide.
Earlier in his welcome speech, the DVC commended the awardee and described him as a dedicated person who needed no introduction.
Uduma told the gathering that Tanglang, who is the Director of the university's Academic Planning, has been known for his great strides in education, especially in the area of Open and Distance Learning (ODL).
He added that the recipient of the fellowship should be looked upon as a role model, whose zeal and determination were worthy of emulation.
After being presented with the Fellow of the ICWLI award as a learned fellow in the field of sports management, Tanglang received the Certificate of Achievement and was recognized as a distinguished and noted professor of the 21st century endorsed by the principal officers of the society worldwide.
He also received a muffler to be worn around the neck on official academic events to signify he had reached the apex of his educational pursuits, as well as the presentation of a Golden Certificate and Golden Medal, also for reaching the zenith of his field.
Responding, Tanglang thanked the society, the DVC Academics and his colleagues from the Faculty of Education, expressing his deep appreciation to the society for finding him worthy of the honour.
Log in to post comments
73 views