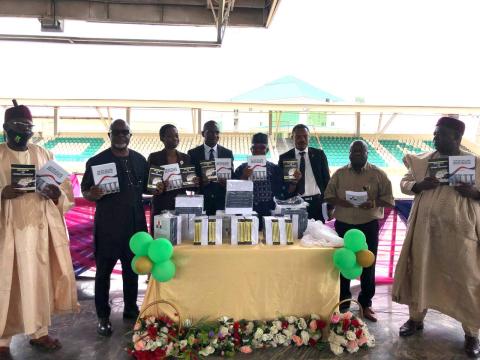 The Dean, Faculty of Law, National Open University of Nigeria (NOUN), Dr. Ernest Ugbejeh, has held a public presentation and book launch that beamed lights on Nigeria's anti-corruption laws as well as the customary transfer of legal title of real property.
The event, which took place November 2, 2021 at the university headquarters, Abuja, had the dean of the faculty as the author of the two books, presented and launched by the university's former Vice-Chancellor, Prof. Vincent Tenebe.
The books were titled, "The Key Pillars Under the International & Nigerian Anti-Corruption Laws" and The "Legal Drafting and Customary Conveyancing."
NOUN Vice-Chancellor, Prof. Olufemi Peters, represented by the DVC Academics, Prof. Uduma Oji Uduma, said the books are a contribution to knowledge and would go a long way in assisting those in and out of the law profession.
On his part, the book launcher, Prof. Tenebe, congratulated the author on his achievement and expressed delight to be part of this important event.
The reviewer of the books, who is the Dean, Faculty of Law, Ambrose Alli University, Ekpoma, Prof. Ambrose Ekpu, delivered his review virtually, and disclosed how the first book tried to examine the cancerous problem of corruption and the effort being made by the municipal & international law to curb it.
On the second book, the reviewer told the gathering that the book addresses the practical aspect of legal schemes in customary means of conveyancing in Nigeria.
He gave a detailed summary of every chapter of each books and recommended them to law teachers and students, judges, lawmakers, legal practitioners, law enforcement agencies and all well-meaning Nigerians.
The books were launched by the Delta State Governor, Dr. Ifeanyi Okowa, who was represented by his Special Adviser, Hon. Pascal Lord-Michael Adigwe, alongside the Chairman of the event, Prof. Vincent Ado Tenebe, the Vice-Chancellor of Taraba State University.
In his closing remarks, the chairman of the occasion thanked NOUN for providing the enabling environment for Dr. Ugbejeh's book launch, urging all who made pledges regarding the book launch to keep to their promises.
He encouraged those in the academic field to follow similar path in their various fields, stressing that no one is too young or old to launch books.
Click on the Link to watch on YouTube: https://youtu.be/Un7bSvhmOZ4
Log in to post comments
115 views