By Justina Undiandeye & Favour Egwu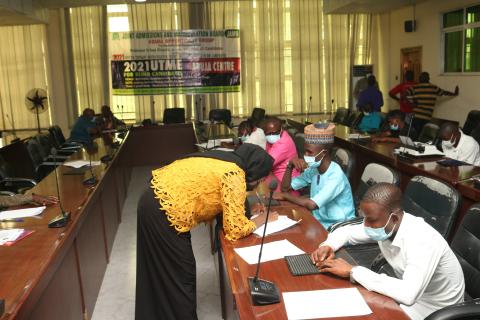 As one of the stakeholders in the promotion of education in Nigeria, the National Open University of Nigeria (NOUN) has hosted over 20 visually-impaired candidates for the 2021 University Tertiary Matriculation Examination (UTME), organized by the Joint Admission & Matriculation Board (JAMB).
The 3-day exercise for the visually-impaired candidates ran from Wednesday June 30th through Friday the 2nd of July 2021, at the university's headquarters in Jabi, Abuja.
Abuja Zonal Coordinator of the JAMB Equal Opportunity Group (JEOG), Prof. Sunday Ododo, in a chat with NOUN News thanked the immediate-past Vice Chancellor of the university, Prof. Abdalla Uba Adamu, for kick-starting the initiative in the university as well as his successor, the present Vice-Chancellor, Prof. Femi Peters, for maintaining the tradition and allowing usage of the university's facilities.
Speaking further, Ododo said NOUN was the only university to host the initiative in Abuja, even as he also expressed appreciation to the JAMB Registrar, Prof. Ishaq Oloyede for the initiative and allowing a level playing field and inclusiveness in the educational sector in Nigeria.
Asked whether there was any challenge encountered, the University of Maiduguri-based professor said that some visually-impaired candidates who lost their sight in the last one or two years have found it difficult to adjust and have had trouble using Braille, Stylus and Slate as they were not used to them.
He added that the Covid-19 pandemic, which had affected the number of candidates was another challenge, adding that the number of candidates had greatly reduced from being upward of 50 to being 28, but that on the upside it helped with Covid-19 compliance.
Explaining his plans towards overcoming the aforementioned challenges, he said that the JAMB Equal Opportunity Group is working very hard to ensure the challenges are minimized and that the group is trying hard to make the initiative more inclusive by bringing in people with different disabilities.
He mentioned that they already had a candidate with down syndrome.
Ododo also pointed out that the educational requirements for the visually-impaired candidates were the same across board.
JAMB solely funded the initiative, paying for the accommodation and transportation fares of the candidates as well as the support staff for the entire period of the examination, he explained.
Log in to post comments
227 views