Justina Undiandeye & Emem Oshionebo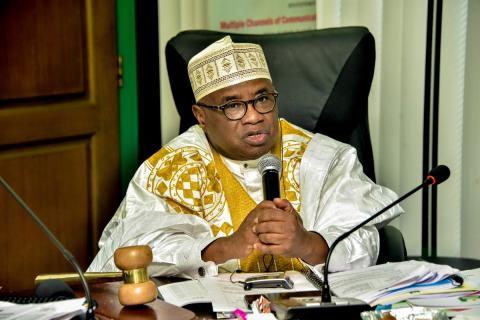 The Director, Centre of Excellence in Migration and Global Studies (CEMGS), Prof. Hakeem Ibikunle Tijani, has commended the outgoing Vice-Chancellor, Prof. Abdalla Uba Adamu, for facilitating the agreement between Tertiary Education Trust Fund (TETFund) and Morgan State University, USA that led to the establishment of the centre.
In a Valedictory Lecture held virtually and monitored from the headquarters of the university in Abuja on Monday to celebrate Adamu's end of 5-year tenure as VC, Tijani said the 2020 agreement between the two bodies was the master-stroke that sees TETFund funds the operation of the NOUN-domiciled CEMGS.
He said the TETFund-Morgan agreement has laid the foundation for human capacity development in critical areas of NOUN.
The director added that the pioneers of the TETFund-Morgan Scholars have completed the first semester as doctoral students, even as other students are poised to leave for Morgan State University in the US to study various disciplines.
Tijani said since the appointment of Prof. Adamu as the NOUN VC, "he set the tone of transformation when he announced that his administration would pursue quality assurance using the National Universities Commission Benchmark for Academic Standards (BMAS), which marked the beginning of quality innovations, learning and research in an institution that had solely focused on teaching, facilitation and supervision to deliver contents to students."
The main goal, he explained, "was to elevate Open and Distant Learning (ODL) along with the VC's lieutenants such as Sir Felix Edoka, Dr. Adam Saleh and Mr. Ernest Odeigha and other members of the 'dream team' a new dawn in ODL delivery was birthed."
While wishing the outgoing VC another era of joyful service, mentoring and collaboration with the incoming Vice-Chancellor, Prof. Femi Peters, the CEMGS director described the valedictory session as "unusual" as he was reluctant to bid Adamu farewell.
Log in to post comments
18 views