Tope Oyewole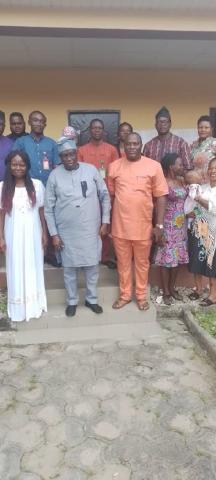 The Vice-Chancellor of the National Open University of Nigeria (NOUN), Prof. Olufemi Peters, has paid an unexpected visit to the Badagry Study Centre as part of his tours to study centres.
On arrival, the Vice-Chancellor, along with his entourage, was welcomed by the director of the centre, Dr. Julius Paul Eyanuku, and the staff of the centre.
Eyanuku took time off to introduce the staff members by name and rank to the Vice-Chancellor and also led guests round the centre to inspect its facilities.
Peters expressed his happiness with the staff for their punctuality and neatness, despite being in a compact environment.
He promised that the management of the university would, in no distant time, embark on facility and architectural work at the centre in order to give it the supposedly structural appearance and facelift reflective of a university.
During his address, the Vice-Chancellor advised the advocacy team of the centre, headed by the director, on the need to focus on grass-roots advocacy campaigns targeting young graduates of secondary schools.
By so doing, Peters added, the centre would be catching them young, saying that if the goals and objectives of Open and Distance Learning (ODL) were counter-productive to society, the Nigerian government would not have approved and licence more than five open universities in the country in the most recent time.
In her vote of thanks on behalf of the study centre, the Confidential Secretary to the Centre Director, Mrs. Justina Nwachukwu, thanked the Vice-Chancellor for his most-awaited visit, personal assessment of the centre's needs, unalloyed commendation of the director and staff members' commitment to duty, applauding his transparent appreciation of the centre's view and neatness.
 Before his departure, the Vice-Chancellor and his entourage posed with the director and staff of the centre in a group photograph.
Log in to post comments
174 views