Sunday Adama & Emmanuella Aliobu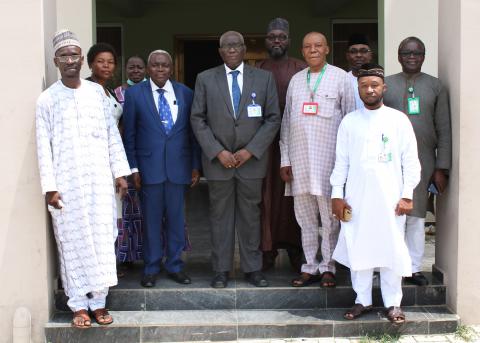 The Vice-Chancellor, National Open University of Nigeria (NOUN), Prof Olufemi Peters has called on staff to have adequate mastery of their trade so as to excel in Open and Distance Learning institution.
Prof. Peters stated this during the virtual workshop organized for Academic staff and Centre Directors of the University by the Regional Training & Research Institute for Distance and Open Learning (RETRIDOL).
"I think it's very important to know the element of our trade. When I say trade, I mean Open and Distance Learning. And by knowing the element it includes the knowledge of theoretical concepts that underline all our operations", VC said.
While thanking the organizers, the facilitators and the participants, Prof. Peters enjoined the University community to key in to the rudiments of ODL adding that staff should be ready to defend "all our operations at all times because I don' t want any staff of NOUN to be ignorant of our operations when the need arises".
Earlier in his welcome address, the director, RETRIDOL, Prof Patrick E. Eya said that "orientations are not new to us in NOUN. Right from inception, it has been our tradition to acquaint new staff with the running of the systems and sub-systems of distance learning mode of education delivery.
"This is because the distance learning system is a novel system, and operators must be trained periodically so that all will have the opportunity to contribute to the running of the institutions", Prof. Eya said.
Going down memory lane, Eya said that "the last major orientations were held for staff in 2005 and 2008. From then till now, time has really passed by. New innovations and technologies and operations are daily being introduced to enhanced efficiency. Staffs are meant to be acquainted with such innovations.
"I will therefore crave the indulgence of all staff to grasp this opportunity to learn a new thing so that all of us can operate seamlessly in the Distance Learning Environment" he said.
While thanking the commonwealth of learning for their contribution to the workshop,  Prof. Eya suggested to the management to approve another workshop for the non-teaching staff.
On his own part, while presenting the overview of the workshop, the deputy director, RETRIDOL, Prof. Clifford M. Amini  said the essence of the workshop is to provide an overview of the fundamental and principles of ODL, explain the various systems that make the national distance learning institution.
Other objectives of the workshop according to him are to: discuss how these systems are planned and managed and the roles of staff in the operations to assure quality.
Amini further stated that the workshop will provide a forum for staff to gain clarity on their roles and how staff can better contribute to the system.
Log in to post comments
125 views