Tope Oyewole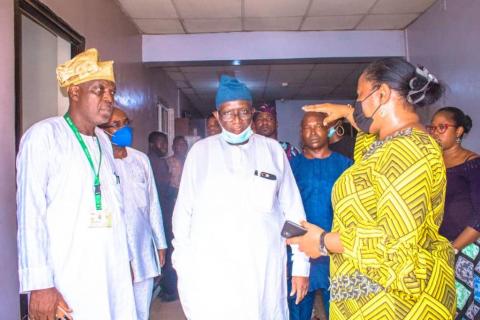 The Vice-Chancellor, Prof. Olufemi Peters on Friday visited the Lagos Office and had a quick tour of the facilities.
His visit was mainly to assess the condition of some of the buildings and offices so as to ensure structures are in proper condition for staff's efficient working condition.
The VC first visited the Lagos Library and some offices close to it that have not been in use for a while. 
He was accompanied by the Deputy Director of the Directorate of Physical Development, Works and Services, Mr. Smart Abulu and other staff of the office.
Peters also touched base with the Lagos Study Centre where he was warmly welcomed by the Centre Director, Dr. Alero Akujobi and members of staff.
She briefed the Vice-Chancellor on the activities of the centre.
Akujobi took the VC round the premises, where they made a stop at the centre's store, the administrative offices as well as the exam halls.
Log in to post comments
461 views