By Ibrahim Kabiru Sule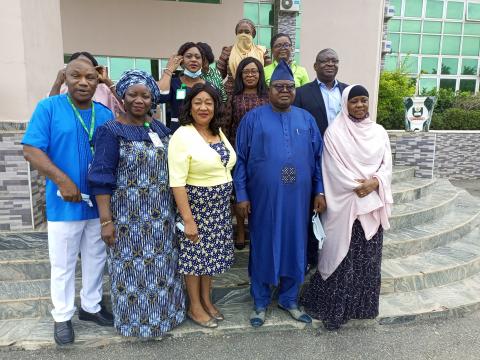 The Registrar, National Open University of Nigeria (NOUN), Mr. Felix Edoka, has said the 1-day training organized by the university for the non-teaching staff of all the faculties had aimed to sharpen the knowledge of the staffers to the rudiments of office businesses which are quite different to what was learnt in school.
He said it is practically impossible for any staff to give what he/she doesn't know, hence the need for refresher trainings to keep them abreast of the day-to-day office activities.
The Registrar, who stated this on Monday, July 5th 2021 while declaring open the workshop at the university headquarters in Abuja, explained that the idea was initially proposed by the Faculty of Social Sciences for its own staff, but was later expanded by his office to involve the entire faculties' non-teaching staff.
The VC, who attended the technical session of the training, urged the participant to take it seriously and encouraged them to put the knowledge to proper use.
Explaining further, Edoka said the Vice-Chancellor, Prof. Olufemi Peters, had graciously approved the proposal and therefore charged the participant to translate the knowledge in their offices.
"The university is not averse to going out for further training, but this is the first step. This will prepare you not to be naïve when such opportunities come," he said, stressing the need for the participants to be attentive to what the facilitators would discuss.
The director, Staff Training & Development, Mrs. Margret Boro, had earlier disclosed that having seen the gap, the Registrar wasted no time in devising a way to fill the gap.
While lamenting that new administrative officers can barely write good memos, or take minutes in their offices, Boro also bemoaned at the poor compliance of the participants to the Covid-19 protocols at the training venue. 
On his part, the dean, Faculty of Social Sciences, Dr. Etila Moses Shuaibu, thanked the Vice-Chancellor, Prof. Femi Peters, the Registrar and the ST&D director for seeing to the realization of the training.
He said it is obvious that "lecturers can't succeed without the administrative staff," and urged them to listen attentively to what the facilitator would convey.
Five different presentations on relevant topics were made, with the first one on "An Overview of Administrative Functions in NOUN" by the Director, Human Resources; "The Role of Junior Staff in Administrative Support" by the Deputy Registrar (Junior Section); "The Use of Microsoft Office in Administration" by the Director, ICT, among others.
Log in to post comments
383 views