By Inuwa Hamza Yunusa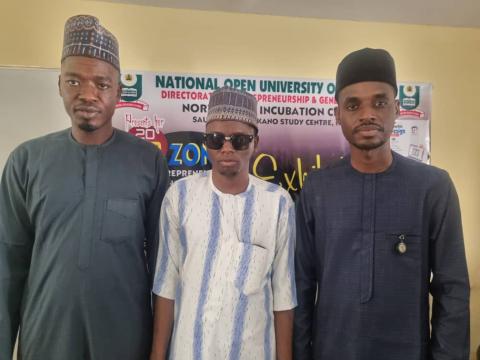 The North-west Incubation Centre, Directorate for Entrepreneurship and General Studies (DE&GS), National Open University of Nigeria (NOUN),  has recently conducted its 2023 Zonal Entrepreneurship Challenge in Kano State. 
The exercise, according to the Coordinator of the centre, Mr. Sadiq Murtala Mansur, was meant to showcase the products and services from its both residents and non-residents incubatees. 
Mansur also said the exercise had afforded them the opportunity to select those that would be judged on their uniqueness and innovations for them to represent the centre in Abuja at the national competition. 
He said finalists who would equally represent the university at the North-central Zonal Universities Competition emerged from the competition.
Mansur, who commended the contestants for their tireless efforts and commitments, mentioned that four incubatees joined the challenge on different ideas as a visually-impaired Dahuru Abdulhamid Idris came up with what he tagged: "Power Hope Academy for Visually-impaired Persons," while Muhammad AS Mohammed showcased a waste management idea of turning garbage to gold.,
The other pair, Jamil Hassan came up with "My Choice Printing and Engineering Solutions,"and the fourth Hauwa Garba, with her ideas for establishing "HG Maths Tutor Institute."
The coordinator explained that the 2023 zonal competition was just the beginning as the directorate has bundle opportunities for NOUN students ranging from mentorship, securing grants applications, networking and entrepreneurship-related programmes.
Shortly after their presentations and rigorous assessments made to ascertain their originality and other related attributes, the Director, Dawakin Kudu Community Study Centre, who is also the overseer of Fagge and Gabasawa centres all in Kano, Dr. Ali Alasan Ibrahim, serving as the judge, declared Mr. Dahuru Abdulhamid Idris as the winner of the challenge, while Jamilu Hassan emerged second.
Idris, born in 1993 as a naturally blind person and the only visually-impaired in his entire family, obtained his NCE in English and Political Science in 2017 before joining NOUN to study BSc. Political Science.
Currently a teacher employed under the Kano State Ministry of Education, he displayed his enthusiasm and passion in his presentation mainly as a social entrepreneur committed to seeing certain kind of people in the society previously regarded as part of social problems realizing their potentials through education and contributing their quota in the development of the country.
In his remarks, Ibrahim said Idris' idea is perfectly in line with the United Nation's SDGs 4, which is reducing inequalities since most of the blind persons are considered burden in the community. 
The exhibition, according to the competition's judge, was first of its kind and demonstrated that NOUN students have confidence in displaying their own ideas and are ready to defend their innovative ideas.
Log in to post comments
25 views