By Joel Nkanta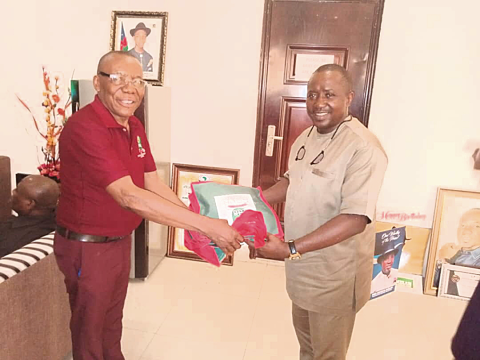 In its drive to make the presence of the National Open University of Nigeria (NOUN), felt in Bayelsa State, the management of the Yenagoa Study Centre, NOUN, Yenagoa, Bayelsa State, paid a courtesy visit to the Honourable Commissioner for Education, Bayelsa State, Hon. Dr. Gentle E. Emelah, in his office at the Education House, Yenagoa, last week.

The delegation of the National Open University of Nigeria was led by the centre director of Yenagoa Study Centre, Prof. Clifford Moses Amini, who was accompanied by the senior staff of the study centre.

Amini thanked the commissioner for making out time to receive him and his team "in spite of your busy schedule." He informed the commissioner and all the staff of the Ministry of Education, Bayelsa State, present, that NOUN is the fastest growing Open and Distance Learning (ODL) institution with the widest reach in the West African sub region.

The centre director opined that Bayelsa State is blessed to have a centre of such a university that is poised to cater for the education needs of the teeming population of Nigeria, while also commending the government of Bayelsa State for approving the five hectares of land on which the permanent site of the study centre in the state is built.

Amini, however, implored the Honourable Commissioner to bring further support of the state government to the centre "because the hands of the headquarters of the university are full, having to meet the needs of over 100 study centres across the country."   
He, therefore, prayed the state government to provide water supply, a 200 seat capacity auditorium, access road to connect the main road of the state capital to the study centre, and a service vehicle, to enhance the operation of the study centre.

In his response, Emelah welcomed the NOUN delegation, and pledged the commitment of the state government to work to bring prosperity to the people of Bayelsa State, especially in the area of education, adding that the government of Bayelsa State is an education friendly government.

He promised that the presence of the state government would soon be felt at the study centre. "Some of those pressing needs that you have enumerated will be looked into soon, especially as they fall within the operational jurisdiction of my ministry," he said, adding that he would address the issue of the access road in consultation with his counterpart at the Ministry of Lands.

Emelah also promised to pay a visit to the study centre as soon as possible in order to evaluate the needs of the institution. Also present to receive the NOUN delegation was, Dr. Ifeanyi Otodo, the senior special assistant on Student Affairs to the commissioner.
Log in to post comments
129 views