Murtala Usman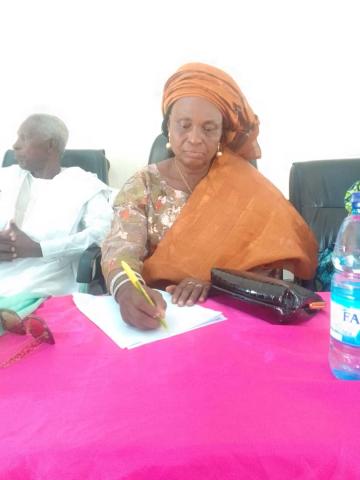 The immediate-past Ag. Director, Yola Study Centre of National Open University of Nigeria (NOUN), Mrs. Tiling Marling Yelyel has retired from the services of the National Open University of Nigeria (NOUN) as she clocked 65 years of age.
Consequently, the centre, on Saturday, August 5, 2023, hosted a special Send-off/Retirement Thanksgiving Service in honour of the "workaholic" acting director of the centre, who clinched the statutory retirement age after years of meritorious service to the university and the nation at large.
The celebration galore, held in the Multi-purpose Hall of the study centre, had in attendance CAN representatives, students, alumni association, members of staff, friends, well-wishers, among others. 
In his welcoming address, the acting director, Mr. Olumide Aladuge, who welcomed the attendees, expressed his deep appreciation to Mrs. Yelyel and commended her exceptional hard-work during her time with NOUN.
Aladuge particularly thanked her for what he described as all the wonderful cooperation, support, as well as, the advices he received from her prior to his appointment as acting director of the study centre, which have lighted his managerial trip.
He described Yelyel as a diligent, straightforward, and a very humane, friendly woman whose unique character speaks louder and is worthy of emulation.
According to him, "Mrs. Yelyel is one of the few persons that everyone agrees that her character speaks for herself in every manner; the celebrant is very diligent, straightforward, and hard-working."
In his speech, the Alumni President, Yola Study Centre, Mr. Milgawa Umar congratulated Mrs.Yelyel on her successful retirement from service, saying that the association appreciates her and her indelible imprints in the centre
Umar prayed that she and her family would continue to grow in strength and prosper in all their future endeavours.
Students and others who spoke during the occasion eulogised the retiree describing her as a person of integrity, and a good adviser, industrious, dedicated to work, accurate, transparent and an embodiment of humility. emulation.
Responding, the celebrant appreciated the management, staff, students, family members, well-wishers and all those who contributed towards her success, thanking God for the modest achievements in her life.
"Today, as I stand to testify God's goodness, protection, and provision over the past 65 years, my joy knows no bounds. Time may not permit me to share my full story but I want to tell you that I worked with God on my side and that gave me the victory. God showed me his grace and mercy, and that is why I am standing here comfortably today," she said.
Yelyel advised her colleagues who are still in the service to set boundaries and not to give devil a chance. "Be prayerful and watchful. Not all friends are friends and not all enemies are enemies. Control yourself and guard your integrity jealously."
The event climaxed with special prayers and commendations given by her colleagues, students, and friends, who were in unison in appreciating her exemplary leadership.
A gift of Hisense TV 43 inch was presented to her and was followed by a group photograph session with the celebrant.
Log in to post comments
200 views