Murtala Usman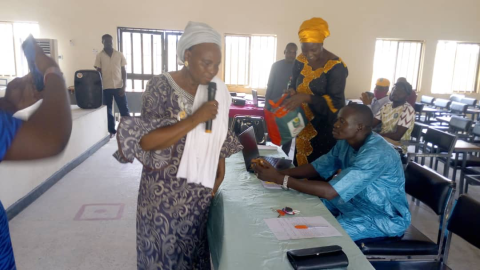 The management of Yola Study Centre, Adamawa State, led by the centre director, Mrs. Tiling Yelyel, on Saturday, 22 October 2021, hosted students of the centre to Students' Industrial Work Experience (SIWES) orientation exercise.

In her welcoming address, Yelyel, who received the SIWES officials, informed  students that SIWES is designed to prepare students for the work situation they are likely to meet after graduation.

She advised them to take the scheme seriously as SIWES programme is a compulsory graduation requirement for all students in the university.

The facilitators at the programme were Mrs. Naomi Ijafiya, who represented the ITF Area Manager, Yola, and Mr. Tsagamada Andrason, the accountant who served as the resource person

Participants were drawn from the Faculties of Education, Management Sciences, Social Sciences and Agricultural Sciences; with mainly 200, 300 and 400Level students of the centre.

The exercise centred on the Overview of SIWES, Role of Industrial Trust Fund (ITF) in SIWES, Funding Programme Capture by NUC and the requirements for students payment.

The programme also featured questions and answer session and followed with the presentation of NOUN advocacy souvenir to ITF staff by center director.
Log in to post comments
113 views