Sunday Adama & Emmanuella Aliobu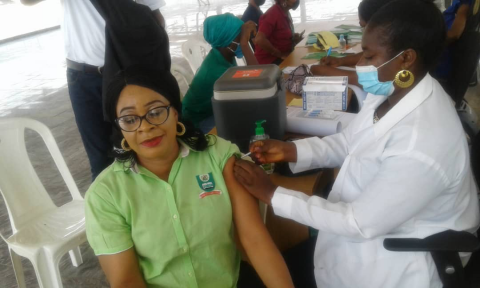 The long-awaited vaccination against the dreaded coronavirus pandemic has commenced at the headquarters of the National Open University of Nigeria (NOUN), Jabi, Abuja, where staff thronged the Convocation Arena of the university to receive the jab.
The large turn-out was in reaction to the memo issued on Monday 18th May, 2021 and signed by the Director, Human Resources, John J. Ubaji on behalf of the Registrar, Mr. Felix I. Edoka, regarding the AstraZeneca COVID-19 vaccine for Abuja NOUN staff.
"This is to inform all staff in Abuja that a team of Medical Officers from Abuja Municipal Area Council (AMAC) will be coming to administer the AstraZeneca COVID-19 vaccine from Wednesday 19th to Friday 21st May, 2021", the memo said.
According to the head, NOUN Clinic, Dr. Hassan Sule, who led the team of medical officers said the administration of vaccine is in two phases adding that the team came to carry out the first phase of COVID-19 vaccine.
While responding to a question on the fear people exhibit regarding the vaccine, Dr. Sule said that every vaccine has its side effect depending on the body system.
He however added that the advantage of taking AstraZeneca vaccine is more than its disadvantages.
"I have not seen anybody that has complained after taken the AstraZeneca COVID-19 vaccine," Sule said.
Speaking further, he advised people to eat enough food before taking the vaccine adding the effect will be more pronounced when one takes it without eating. "Just eat something," he said.
He further explained that after taking the vaccine, observing COVID-19 protocol is no longer necessary but cautioned the staff to be careful adding that pregnant women, nursing mothers, children and someone that is critically ill are not allowed to take the vaccine.
Reacting to the vaccination exercise, some NOUN staff, Mr. Sunday Apoje and Joy Akiga, said they did not exhibit any fear and urged members of staff who have not been vaccinated to do so.
The exercise began with registration, administration of vaccine and capturing.
Log in to post comments
242 views