By Undiandeye Justina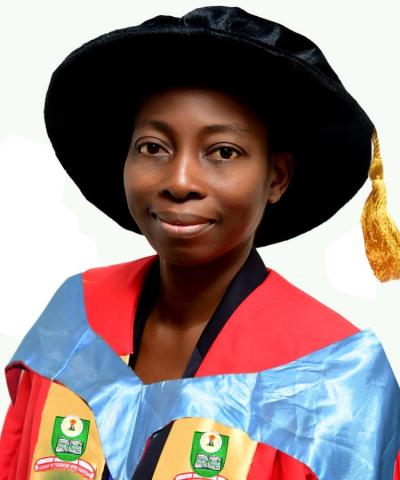 Globally, the gender gap in institutions has been widespread, raising conversations on how it can be addressed, despite the fact that a meaningful inclusion of women in decision-making positions increases effectiveness unlocks greater resources and strengthens the efforts of any institution. Despite these facts, many institutions in Nigeria still struggle with the inclusion of women in positions that are almost always exclusively held by men. So, it is timely that the National Open University of Nigeria (NOUN) created an office for a Deputy Vice-Chancellor, Technology, Innovation and Research (TIR), and the position was given to a qualified, top-tier professional in the person of Professor Monioluwa Olaniyi.
Prof. Olaniyi would be the second ever woman in the university to hold the position of DVC after Prof. Joy Eyisi, who held the position of Deputy Vice-Chancellor (Academics). The appointment of these two women has truly helped with visibility and a much needed representation for women in the university system and indeed nationwide, pointing to the prospect that these key positions are achievable.
The new DVC is a clear example of a square peg in a square hole as her credentials and achievements speak very clearly. Olaniyi's appointment as DVC (TIR) is not only timely but also a welcome development because NOUN is an Open and Distance Learning (ODL) institution that revolves around research, innovation and technology.
 Olaniyi has always been involved in activities that contribute to the development of the university. Prior to her appointment, she had been a member of the University Senate and Governing Council and was also a former Dean of the Faculty of Science for a period of four years. She was also the pioneer Director of the Mushin Study Centre, Lagos, from 2015 to 2016. She served on NOUN's committee that wrote the Strategic Plan, 'Roadmap 2013 -2017' and Academic Brief documents of NOUN. She was the chairperson of the Strategic Action Plan Sub-Committee and a member of the Content Sub-Committee of the Strategic Plan Central Working Committee.
Career-wise, she started out as an Assistant Lecturer in the Federal University of Technology, Akure, in 1991 and was a visiting researcher at the University of Bonn, Germany. She strengthened her IT skills with CompTIA A+ certification and also an Oracle Certified SQL expert. These qualifications will, no doubt, enable her play her part in moving NOUN forward as she has firsthand experience in the required fields.
In this current dispensation where gender equality and female representation is the order of the day, Prof. Olaniyi's appointment proves that NOUN is gender-sensitive. This is in line with the 2006 National Gender Policy (NGP) which formulated a 35 percent Affirmative Action policy that demands a 35 percent inclusion of women in policy making, elections and appointments. This is in tandem with the Beijing Declaration on 35 percent Affirmative Action on women inclusion which stipulates that every government establishment must have 35 percent women inclusion. So what are the advantages of having women in key positions? The Country Director, Action AID Nigeria, Ene Obi, says that women's role in decision-making makes the process more effective and productive.
Clearly, NOUN has been fair to women in terms of the Affirmative Action. In 2019 during the administration of the immediate past Vice-Chancellor, Prof Abdalla Uba Adamu, out of nine faculties in the university, four of the Deans were women, among other key female appointments. And it was during his tenure that the first female DVC was appointed.
Convinced by women's contributions to the growth and development of the university, Adamu without mincing words, said that within the next ten years NOUN will produce a female Vice-Chancellor.
The incumbent Vice-Chancellor, Prof. Olufemi Peters, in line with his predecessor's belief of giving women opportunities, created the position of DVC Technology, Innovation and Research, which has given a platform for gender parity.
*Justina Unadiandeye is a staff of the Directorate of Media and Publicity, National Open University of Nigeria (NOUN)
Log in to post comments
59 views