By Ijapari Ben-Hirki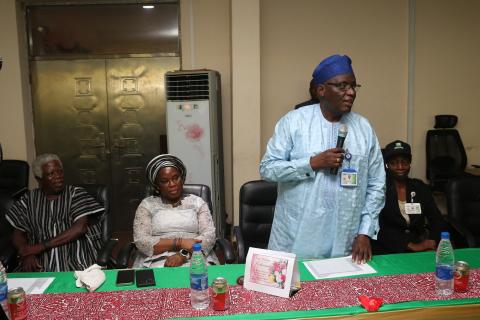 The Vice-Chancellor, National Open University of Nigeria (NOUN), Prof. Olufemi Peters, has congratulated the immediate-past director of the Internal Audit, Dr. Lydia Ajayi, who retired from service having reached the age 65 years.
Peters stated this during a send-off and retirement party organised by the directorate to bid her farewell, which took place recently at the university headquarters, Jabi, Abuja.
He said that it was no surprise that the retiring director had attained such a height and made a lot of impact since assuming office as director.
"Seeing her reach this height isn't surprising. I'm very proud to have known her and I am glad that she is leaving us not by virtue of any illness or any unpleasant situation. God has been faithful and has brought her to this age.
"No VC likes the Audit Department because they are like the police; they are in charge of watching any excesses that the Vice-Chancellor might have. No one likes to be told not to do what they want; but we have worked together very well," Peters said.
The Vice-Chancellor stated that he was glad the department was made into a directorate at the last Governing Council meeting, which was a fulfilment of her earlier promise.
"You can be sure that we cherish and appreciate your stay with us. You have kept your calm personality and we're sure this would be the least you'll ever be," he added.
Ajayi, having overseen the metamorphosis of the department to a full-pledged directorate, was welcomed to a surprise birthday and retirement party organised by her staff whose mixed emotions about their retiring boss capped the story of her stint with the university.
The celebration attracted a wide range of personalities, as the Ajayi was surrounded by her friends, family and church members, invited to celebrate with her.
Representatives of various well-wishers were given the opportunity to speak about her with each speaking about their memorable moments with her.
Also present at the event were principal officers of the university who spoke highly of her and presented her with farewell gifts.
Log in to post comments
352 views