By Ambrose Bernard Gowon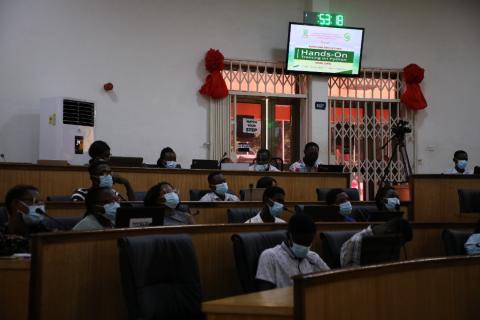 The Africa Centre of Excellence on Technology Enhanced Learning (ACETEL), National Open University of Nigeria (NOUN), has commenced the professional trainings of individuals on Machine Learning and Python programming.
Vice-Chancellor of the university, Prof. Femi Peters, while declaring open the training, said these two technology tools provide giant springboards for individuals that have grasped them to develop rich Artificial Intelligence (AI) driven applications.
"AI has been described as the fourth industrial revolution, which is transforming countries, societies, and organizations across the world today," he said.
The VC added that "A lot of planning and resources has gone into this workshop and I will like to thank the Director of ACETEL and her team for their drive and commitment.
"I encourage all participants to take advantage of the unique opportunity offered by this workshop in developing valuable skills."
On her part, ACETEL Centre Director, Prof. Grace Jokthan, said Machine Learning and Phyton Programming were chosen amongst the first professional courses ACETEL will mount because they form the bedrock of skills that are required in the development of tools and solutions needed for the 21st Century education landscape especially in the post Covid-19 era.
"These courses," Jokthan explained, "were aimed at professionals looking to build confidence in Python and Machine Learning and better understand its programming tasks.
"It's particularly well-suited to career-changers seeking an entry-level programming role, established technology professionals looking to level up their understanding, and technology team leaders who wish to increase their understanding of key concepts to more effectively manage development teams."
The training, according to the director, is simultaneously taking place at the Laweh Open University College, Accra, which is the venue for the Machine learning training, and Kwame Nkrumah University of Science and Technology, Kumasi, Ghana, hosting the Python programming.
Jokthan said provisions were made for the NOUN community and other interested participants to join the training virtually.
She disclosed that the short-courses training programme is one of the core mandate of ACETEL; bridging the immediate digital need gap of West Africa as a regional institute that deploys digital tools and solutions in advancing education.
President, Laweh Open University College, Accra, Prof. Goski Alabi and the Dean, Kwame Nkrumah University of Science and Technology, Prof. Rexford Assassie delivered goodwill messages at the opening ceremony.
About 90 participants are currently undertaking the week-long training, which is expected to end on Saturday with presentation of certificates.
It could be recalled that in 2020, ACETEL had conducted similar short-courses trainings in IT Essentials (ITE), Internet of Thing (IOT) and Get Connected (GC) at the NOUN headquarters, Abuja.
Log in to post comments
135 views