By Debbie Nduba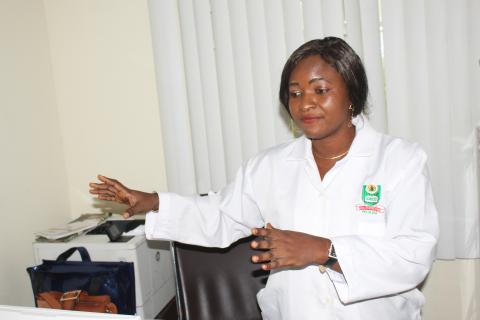 Recently, the Vice-Chancellor, Prof. Olufemi Peters unveiled three new medical diagnostic laboratory units of the Faculty of Health Sciences, National Open University of Nigeria (NOUN) at the headquarters in Abuja. The state-of-the-art, well-equipped laboratories are: Pathology, Medical Microbiology and Haematology laboratories, located at the faculty's bloc with the sole objective of reducing difficulties and enhance first-hand diagnosis for staff in the university. The Medical Lab Scientist and Head of the Unit, Mrs. Medlyn Okolo-Obieze, in a chat with NOUN News Correspondent, Debbie Nduba, speaks on the services available at the laboratories and why they are the preferred options.
Sequel to the unveiling of the state-of-the-art, well-equipped laboratories, I am talking about Pathology lab, Medical Microbiology lab and Haematology lab in June or thereabouts this year by the VC, as the head of the unit, what are your plans as regards the laboratories?
My plans are massive but for now, to ensure that the diagnostic lab performs its function to its expectation by rendering medical care to university community and to the public; expanding the scope of the laboratory list of tests, improving the quality management system of the laboratory as well electronic transmission of patients results to doctor, among others.
What inspired the faculty to establish these laboratories?
To ensure quick response in case of emergency, give affordable diagnostic services to our staff as well as support the university clinic not to send laboratory investigations to another laboratory and serve as a medical research laboratory.
Can you tell us more about the diagnostic laboratories, educating NOUN community on the kind of tests you run; why they should run test with you and why you are the preferred option?
NOUN diagnostic laboratories have three departments, namely: Haematology Department, where we run tests like Genotype, Full Blood Count and Blood Group; Medical Microbiology Department, where we run tests like Urine Culture and Sensitivity, Semen Analysis and Culture Sperm Count and Chemical Pathology Department, where we run tests like Fasting Blood Sugar, Lipid Profile, Liver Function Test and Kidney Function Test (EU/Creatinine), also Serological Tests, HIV Screening, Hepatitis B Surface Antigen, HCV, Typhoid test, Malaria Microscopy. For all these tests is to determine the disease etiology.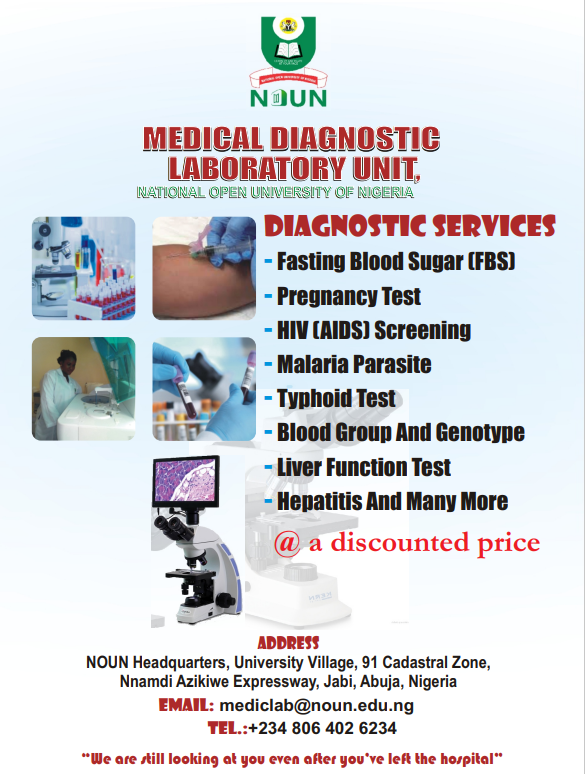 Every new project comes with its challenge, please what are your challenges so far?
Yes, so far, some of our challenges are lack of manpower outage, low turnout of staff (low patronage).
Health is wealth, they say. What is/are your advice(s) to the community on their medical health?
Yes! Health is Wealth! I urge them to do medical check-up from time to time to know their health status because early detection of disease helps in proper management and save lives. I urge our staff to use our diagnostic laboratory that is in our doorstep to check their health status, to live a healthy lifestyle and well-being.
On a scale of 1-10, where do you see this medical diagnostic lab in the next five years?
On a scale of 8, because there will be more Medical Laboratory Scientists and Medical Laboratory Technicians. There will be proper publicity in the next five years. 
What do you have to say to the management?
My sincere appreciation goes to the Vice-Chancellor, Prof. Olufemi Peters, for approving the procurement of relevant equipment and consumable items for effective operation at the Medical Diagnostic Laboratories. Indeed, a dream come true for us in the Faulty of Health Sciences.
Log in to post comments
170 views