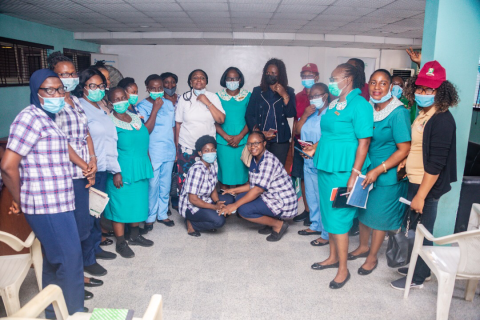 The Advocacy team at the Mushin Study Century has paid a courtesy call on the Nursing Services Department, Lagos University Teaching Hospital (LUTH), to educate the nurses on the benefits of studying at the National Open University of Nigeria (NOUN).

Director of the centre, Dr. Yemisi Ogunlela, expressed her profound gratitude to the head of the departmental for the warm reception, and explained the import of the visit, which was to honour the request of the department to the centre.
The nursing department had asked the centre to come and answer questions prospective students may have and also address other issues current students of the university may be regurgitating with.

on her part, the director of the department,  Adeduntan Oyegoke, who is an alumnus of NOUN, highlighted the benefits of having a certificate from the most respected ODL school in West Africa.
While pouring encomiums on the university, she also expressed fears of prospective students not being able to meet up with examinations due to the nature of their jobs.

Responding, Ogunlela allayed  any concern by stating that NOUN, being an ICT compliant institution, operates online examinations.
With this, she said, students have the option to either be physically present at examination centres or write their papers online from anywhere in the world, but with webcam-enabled devices.
The centre director added that as a tertiary institution that is heavily reliant on technology, NOUN makes enrolment easy for prospective students, with about 80% of registrations and clearances done online.
Principal Assistant Registrar of the centre, Mrs. Ejiro Ojo, commended the nurses for their due-diligence in carrying out their duties as life savers, explaining further that certificates obtained from the university are accepted and acknowledged all over the world.
The prospective students, on their part, shared their reservations about the level of admittance into the university, which Mrs. Ojo clarified that it has now been reversed to 200 level if they come in as registered nurses. 

The Student Counsellor, Mrs. Abimbola Adedolapo-Ali, encouraged them to understand the school system and their own body system to get optimal performance and result, even as she disclosed that there exists an open-door policy for all students in the counselling department.
 
Log in to post comments
106 views