By Inuwa Hamza Yunusa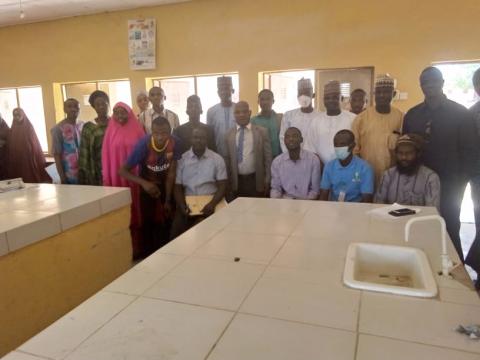 The advocacy team of the Katsina Study Centre, led by its Chairman, Mr. Haruna Hafiz, has taken the campaign to Khuddam College of Health Sciences and Mumed Schools, Katsina State. 
Speaking at the institutions, the Katsina Study Centre's advocacy head informed both staff and students at the institutions about the existence of the university as well as its abundant opportunities that beg for discerning students. 
He explained that the university is affordable, accessible and flexible in nature, and further provides a level playing field for people to study at their own paces.
Hafiz stated that NOUN is a federal government institution, regulated by the National Universities Commission (NOUN), and it is the first Open and Distance Learning (ODL) institution in West Africa; the largest university in sub-sharan Africa. 
He maintained that the university's certificate is at par with any other certificate awarded by any recognised institution in Nigeria and beyond. 
NOUN has a dedicated and suitable facilitation platform where facilitators and students meet and interact virtually, said Hafiz. 
As such, the advocacy team's head maintained, NOUN remains the university of the moment with the revolution in information and communication technology. 
In their separate remarks, the heads of the institutions applauded the university for the visit and thanked the advocacy team for given them due consideration. 
They also promised to allow their staff as well as convince students to enroll in NOUN so as to improve their qualifications and enhance their education.
Log in to post comments
100 views