By Joel Nkanta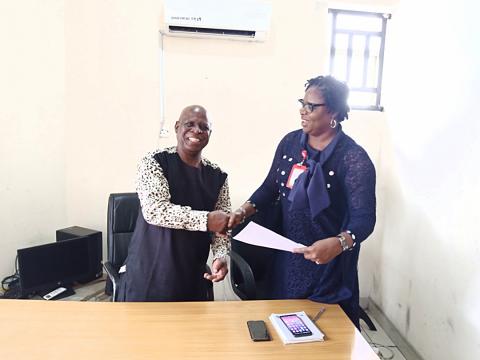 The immediate-past director of Port Harcourt Study Centre, Port Harcourt, Rivers State, Prof. Eserinune McCarty Mojaye, has charged staff of the centre to support and cooperate with his successor, Dr. Nnenna Nancy Chukwuma in order to build on his modest efforts to take the centre to an enviable height.
Mojaye made the appeal on Monday during the official handover ceremony, which took place at the conference room of the centre.
"Today, I am here to handover officially to Dr. Nnenna Chukwuma, who will be piloting the affairs of the centre from now till when it pleases the university to make a change. My prayer is that her tenure should be filled with peace, with progress, and with development.
"I, therefore, enjoin you to give her your maximum cooperation, support and loyalty. Those are what she needs from you. Whatever support and cooperation you gave me, please give to her 200%," he said.
Chukwuma, who described her posting to the centre as a sort of homecoming, having served the university at the centre as the only academic staff at that time, commended Mojaye for strengthening the reforms and transformation at Port Harcourt Study Centre.
"The first thing I have to say is to appreciate the outgoing centre director. I accepted this assignment with mixed feelings, because I was looking at what I used to be and what I am coming to do in the prevalent circumstance.
"I took to heart what Port Harcourt Study Centre used to be. I had to put my ears on the ground for possible fillers on what this centre was known for, to my surprise, I was joyfully disappointed when I discovered that those uncomplimentary remarks weren't coming as they were before. So, I have to appreciate the director and applaud all of you for this wonderful paradigm shift. It is indeed a sublime achievement," she said.
The new director expressed her delight at how the menace of unenviable notoriety has been arrested. "I sincerely thank you all for helping to pull out the centre from the mud that it was to this respectable pedestal where it can stand with the best of the centres in the country. This is highly commendable. Well done," she said.
Chukwuma prayed the outgone director not to switch off his phone as the centre would continue to count on his support and wise counsel from time to time. She pledged her commitment to continue from where he stopped and to take the centre to the point at which he would be proud of wherever he may be.
The handover ceremony was attended by all cadres of staff of Port Harcourt Study Centre; even those who were on leave were recalled to attend.
It could be recalled that the Vice-Chancellor, Prof. Olufemi Peters, has recently appointed Mojaye as the director of the Olusegun Obasanjo Centre for African Studies (OOCAS) for a period of two years, in the first instance, which can be renewed by the Vice-Chancellor.
Log in to post comments
115 views