Murtala Usman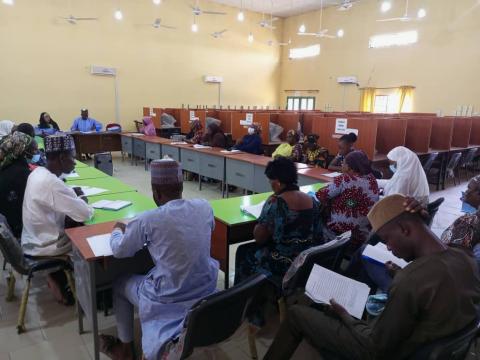 Being one of the requirements for the award of degree certificates in Nursing Science and Public Health Science by the National Open University of Nigeria (NOUN), students of the Faculty of Health Sciences have on 31st March, 2022, held a seminar presentation at the Maiduguri Study Centre, Borno state.
The students were drawn from Nursing and Public Health Science Departments who have registered for Nursing Science NSC 418, while the in Public Health Science PHS 305 and PHS512 respectively.
The presentation was coordinated and supervised accordingly by Dr. Babaji Maigari and Dr. James Musa both from University of Maiduguri with the total of 40 students in attendance.
The assessors, who happened to be centre's facilitators, did not leave anything to chances as they grilled the students to test the level of understanding of their field of study.
Some of the topics discussed were "The effect of poor hygiene and environmental health conditions on the health status of IDPs in Maiduguri, Borno State",
"Factors affecting the mental health or most youth during the COVID-19 pandemic.
A case study of Gwange ward Maiduguri."
"The Roles of the Midwife and pediatric Nurse in child care in the Pediatric ward of State Specialist Hospital Maiduguri, Borno State"
Students had during the presentations either in group or as an individual were asked questions which aimed at testing the degree of their understanding on the topic under discussion.
At the end of any presentation after observations and series of questions were made, the assessors commended their efforts of the students for their deligent insightful analysis and also asked them to effect the necessary corrections.
Log in to post comments
112 views