By Inuwa Hamza Yunusa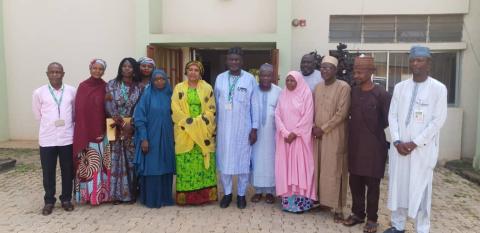 The Resident Electoral Commissioner, Independent National Electoral Commission (INEC), Kaduna State, Hajiya Asama'u Sabo Maikudi, has on 4th November, 2021 played host to a high-powered delegation from the National Open University of Nigeria on a courtesy visit. 
The delegation, drawn from Kaduna Study Centre, Faculty of Social Sciences, and the Centre for Human Resource Development, was led by Dr. Aminu Umar, director of the study centre.
The visit was aimed at establishing strong relationships in the areas of training in Human Resource, as well as in the Information and Communication Technology. 
It was also to avail the staff of the commission with the mode of operations of the university and the availability of untapped benefits awaiting them to harness.
Speaking, Umar congratulated the commissioner for her posting to Kaduna State and further extended the warm felicitation of the NOUN Vice-Chancellor, Prof. Olufemi Peters. 
Explaining about the operation of NOUN, the leader of the delegation described it as the giant of Africa and in that sense it has about 150 study centres that cut across the 36 states of the federation including FCT. 
Moreover, he stated, NOUN is the major care giver of education in Nigeria with centres across some correctional facilities in the country. 
He added that on innovations, the university has come up with an e-learning system, which serves as an avenue for interaction between lecturers and students at their own pace. 
Umar, therefore, described the Open and Distance Learning (ODL) system of the university as suitable for the commission's staff, looking at the nature of their work which does not allow for a vacuum. 
Responding, the INEC commissioner, expressed her pleasure to receive the team in her office, stating that "this is the first ever visit (the) National Open University of Nigeria has taken to the Independent National Electoral Commission, Kaduna Office." 
The commissioner promised to use the opportunities given by the university to harness, adding that the commission will use the facilities of the university for the training of ad hoc staff. 
According to Maikudi, the National Open University of Nigeria and the Independent National Electoral Commission both operate in line with the global best practice, as such, she called on the team to assist the commission and advocate for voters' registration, which is very important as the citizen and it is part of the civic responsibility. 
She stated that the commission is going to use some of the staff of the university as ad hoc electoral officials for the 2023 General Elections.
Log in to post comments
135 views