By Debbie Nduba & Ibrahim Kabiru Sule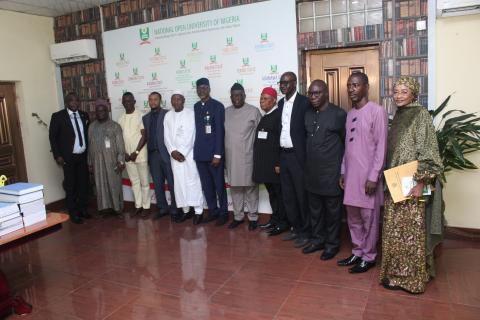 The Vice-Chancellor of the newly-established Federal University of Transportation, Daura (FUTD), Katsina State, Prof.Umar Adam Katsayal, has said that the university will launch a blended system of Distance Learning and on-campus study as the world continues to adopt technology in education delivery.
To this end, Katsayal expressed the university's desire to go into partnership with the National Open University of Nigeria (NOUN) in the areas of academic activities, e-library, teaching, among others so as to kick-start operation in earnest.
He stated this on Thursday, July 27, 2023, when he led members of his Interim Management Committee (IMUC) on a working visit to the NOUN Vice-Chancellor at the headquarters in Jabi, Abuja.
"The thrust of our visit is to create a working relationship and ways of partnership between both institutions. As we know NOUN is a citadel of Open Distance Learning. We are seeking this collaboration with NOUN, the biggest ODL university in Nigeria due to the economic meltdown and seemingly large number of youths in our society which can be handled only through Distance Learning,"he said.
Katsayal said in view of the inherent cost of establishing a university campus as well as the high number of youth seeking admissions, "we can't keep students on campus. Right from the beginning I want to place this university on Distance Learning. Now in Nigeria, this is impossible without coming to NOUN. You are the parent of ODL."
Responding, NOUN Vice-Chancellor, Prof. Femi Peters, welcomed the delegation and thanked them for deeming it necessary to pay the university a visit, stressing the readiness of NOUN to partner with FUTD.
"What you are here for is actually our job. We are confident to say, we are ready to offer our expertise. I want to say without any iota of doubt that you have come to the right place; there is no other university in Nigeria today that has the skill, capacity and expertise like ours," he said.
It would be recalled that the FUTD, which is being built by the Chinese railway giant, CCECC, was established "to ensure adequate turn out of graduates, technicians, artisans, researchers in different areas of transportation, especially railway transportation to guarantee the sustainability of the massive infrastructural provision of this administration on rail transportation."
It is also expected to serve as a training institution for the development of transportation engineering, logistics and other courses that will support the post-modern transportation industry.
The university will, among other things, pave way for the domestication of railway engineering and general transportation sciences in Nigeria, as it will offer diverse courses in its core area of interest leading to the award of first degrees, postgraduate degrees, diplomas and other professional certificates.
FUTD will also bridge the technology and skills gap in the railway, which in turn will impact the transportation sector positively, as It is believed that the university can reach the target of training people, enhancing technology transfer and developing the railway industry, which is in huge demand in Nigeria and the West African region.
Log in to post comments
144 views