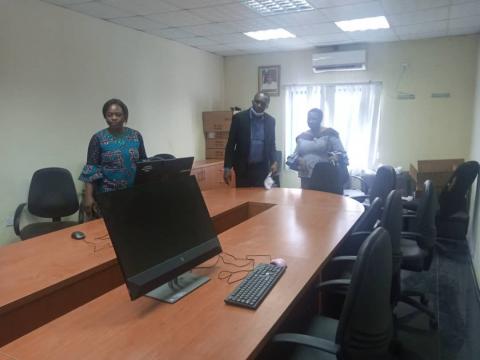 In its preparations towards producing digital experts in the country  ACETEL-CISCO Academy laboratory is now fully ready for that task ahead.

According to Centre Director Professor Grace Jokthan, the Lab was produced to keep pace with the centre desire of building ICT skills in the labour market.

Jokthan added the Lab is central and a basic instrument towards the commencement of full training in various short courses.

ACETEL a Centre of Excellence which deploys digital tools and solutions to advance education has as one of its mandate, to identify the immediate digital needs of the society and bridge the shortfall through running of short courses.

In this regards Prof. Jokthan assured that full training into various short courses will commence in February 2020.

In his remark, the coordinator of ACETEL short courses Dr. Adewale Adeshina said the laboratory is a standard ACETEL-CISCO Lab with routers, switches, computers and other equipment that will make learning and networking a pleasurable experience.

"Its a standard ACETEL-CISCO lab for the training and running of short courses as well as other ICT training.

"The equipment had been delivered and already set up. So for the next batch of IT training which will be in February, I think we have a good squad" he maintained.
 
Log in to post comments
29 views