By Loretta Edozie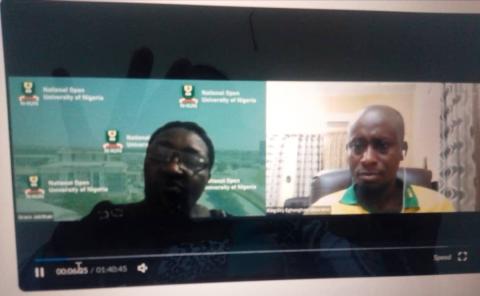 The Africa Centre of Excellence on Technology Enhanced Learning (ACETEL), National Open University of Nigeria (NOUN), has organised a 2-day Webinar titled: "Publication on High-Impact Journal," to assist students in meeting the publication requirements for graduation.
The Webinar, held from Tuesday, July 18 to Wednesday, July 19, 2023, aimed at guiding students on best practices in research publication in high-impact Scopus-indexed journals, as this is a major graduation requirement for both Masters and PhD. students
As part of the centre's effort to assist through the difficulty in navigating the publication process, the webinar was designed to provide practical tips, resources, and best practices for students, facilitators, researchers and faculty members.
The Director, ACETEL, Prof. Grace Jokthan in her remarks, welcomed participants  and intimated them about the reason for the Webinar.
While speaking, she introduced the guest speaker, Dr. Kingsley Eghonghon Ukhurebor, a Lecturer and Researcher, Department of Physics, Edo State University Uzairue, Edo State, and a Research Fellow, WASCAL Competence Centre, Ouagadougou, Burkina Faso,
According to her, Ukhurebor is an expert in the field of research publications and has published in many high-impact journals, which earned him a place among the first fifty (50) scholars in Nigeria according to reports from Scopus database.
"The choice of Dr. Ukhurebor was as a result of his vast experience and impressive credentials as an editor and reviewer for reputable journals and publishers like Springer," the director said.  
Topics related to: Introduction on the importance of writing and publishing in Scopus-indexed journals; Why writing and publishing Scopus-indexed (High Impact) articles?; Detailed explanation on steps or procedures for publishing in high-impact (Scopus-indexed) journals, were presented.
During the presentation, the facilitator shared valuable insights and practical advises and also explained the significance of Scopus-indexed journals and their impact on academic careers.
Participants were able to gain deeper understanding of the publication process, including selecting the right journal for their research, manuscript preparation and writing, and navigating the peer review processes.  
The lecturer and other scholars in attendance fielded questions from students, and addressed each question comprehensively, ensuring that participants received the guidance they sought.
Following the engaging and informative session, Prof. Samaila Mande, expressed his appreciation to ACETEL for organising the webinar and commended the facilitator for his expertise and the in-depth knowledge shared during the presentation.
Mande acknowledged the value of such educational sessions and encouraged students to seize every opportunity to enhance their understanding of academic publishing.
Over one hundred (100) students drawn from NOUN and ACETEL attended the Webinar as well as lecturers from NOUN and faculty members from other institutions.
Log in to post comments
61 views