By Emem Oshionebo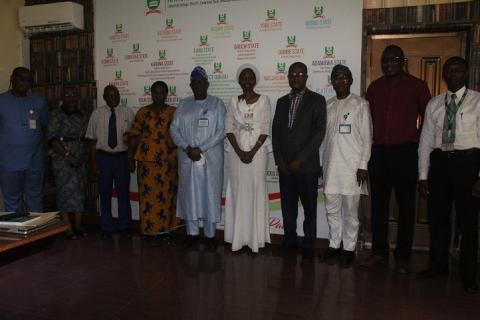 The Vice-Chancellor, National Open University of Nigeria (NOUN), Prof. Olufemi Peters, has charged the Africa Centre of Excellence on Technology Enhanced Learning (ACETEL) on the need to imbibe friendliness and genuineness in carrying out its activities with a view to achieving long-lasting results.
He stated this while inaugurating NOUN's committee on Regional Strategy for ACE Impact Project at the university's headquarters, Jabi, Abuja.
The VC, who emphasised the importance of the committee as a key requirement in achieving the Disbursement Link Indicators (DLI) for the project, informed the team that a similar committee was created for ACETEL with the task to produce an institutional draft strategy as demanded by the ACE sponsors.
''The importance of the committee as it will support the university's planned strategic vision cannot be over emphasised. The inauguration of this committee is important because it brings to the university certain benefits from the sponsors of this project,'' Peters said.
The committee's chairperson and Deputy Vice-Chancellor, Technology, Innovation and Research, Prof. Monioluwa Omolara Olaniyi, appreciated the VC for the opportunity, even as she pledged her undiluted commitment to the actualisation of the project.
Earlier in her speech, the Director, ACETEL, Prof. Grace Jokthan, said the ACE project is in its 2nd phase known as the ACE Impact Project, adding that the project is the Regional Higher Education supported by the World Bank in 50 Centres of Excellence.
She, however, added that the project is results-based funded and the centre must achieve the required DLIs to earn money from the available funding envelope.
Speaking further, she called on the committee to work in line with the seven DLIs for the project and work towards international institutional accreditation available in ACE Impact Centres.
The chairman of the task force, Prof. Christine Ofulue, while presenting the draft NOUN Regional Strategy, said the strategy, as demanded by the sponsors, has been designed in a strategic and systematic approach towards achieving regional impact.
''If we are able to implement this strategy, it has the potential to launch the university to the next phase of reach, beyond national borders, in a more focused, systematic and extensive way,'' Ofulue said.
ACETEL's Monitoring and Evaluation Officer, Dr. Johnson Opataye, who unveiled the verification criteria, said the DLI has two key focuses, which, according to him, include: ''support activities that focus on global good practices for higher education and to provide ACE impact host institutions with the flexibility to pursue activities focused on institutional impact based upon need and priority.''
Members of the committee are: Prof. Chiedu F. Mafiana, Prof. Muhtar Alhassan, Dr. Greg Onwodi, Dr. Adewale Adesina and Dr. Opataye Johnson.
Log in to post comments
275 views