By Ambrose Bernard Gowon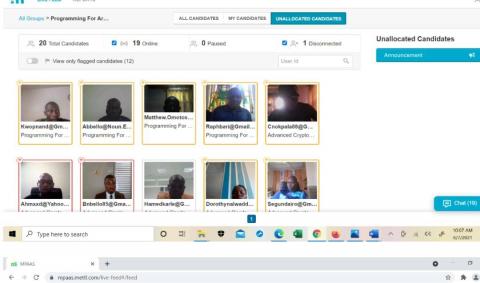 Chairman, Examination Committee, Africa Centre of Excellence on Technology Enhanced Learning (ACETEL), National Open University of Nigeria (NOUN), Dr. Johnson Opateye, has said the just concluded maiden examination conducted by the centre was seamless and a world class example.
In a telephone interview with NOUN News correspondent to appraise the conduct of the examination in Abuja, Opateye said Proctor Platform, a software of the Directorate of Exams and Assessments, played a leading part in the success recorded at the just concluded first semester examination of the centre.
The chairman said with the proctor exam administration, students were able to write their examination at the comfort of their locality without the rigor of having to travel to physically show themselves in an examination venue.
"The system also afforded us the opportunity to supervise individual students, ask questions were necessary and also alert us if the environment is suspicious of any unwanted examination presence.
"As part of our post examination appraisals, a survey assessment form had been designed and sent to our local and international students. It is to offer us the opportunity on how to improve on this maiden exam, expecting to hear their experiences and suggestions on what to be done in order to provide better service delivery," he said.
Details of the examination show 46 students from Nigeria, Cameroon and Uganda participated in the six postgraduate courses offered at the centre for both M.Sc. and Ph.D students. 
Commenting on the examination, ACETEL director, Prof. Grace Jokthan, said the successes recorded in the conduct of its maiden exam on-line, birthed a new paradigm in the conduct of examination and assessments in the country, especially in the post Covid-19 era.
"ACETEL, a World Bank, Association of African Universities and National Universities Commission-supported project, is focused on research and capacity building geared towards the development of digital experts and skilled human resource for software research and development that will drive economic growth and transformation in the West African sub- region.
"The centre will achieve these through its postgraduate academic programmes (M.Sc. and Ph.D.) in Artificial Intelligence, Cybersecurity and Management Information System, as well as short courses on Cloud Computing, Block Chain, Open Government Data, Database Management, Data Analysis, Artificial Intelligence etc, including workshops, seminars and internships," she said.
Jokthan explained that with the successful completion of the first semester examination, it "signals the end of first semester for 2020/2021 academic session.
"The M.Sc. students of the centre will now proceed for a one-month internship hands-on experience, while the Ph.D students will proceed for second semester."
Log in to post comments
164 views