By Inuwa Hamza Yunusa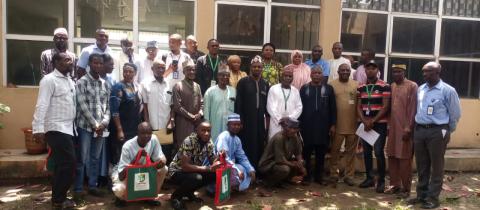 The Kaduna Study Centre of the National Open University of Nigeria (NOUN) has carried its advocacy campaign team to the National Commission for Nomadic Education (NCNE).
Welcoming the advocacy team, the Director of Administration of the commission, Mr. Inuwa Danladi, urged the congregation of the commission's staff to be attentive and listen carefully to what the centre had to say.
The Director, Quality Assurance, Mr. Akin Akinyoyese, who stood for the NCNE Executive Secretary, Prof. Bashir Haruna Usman, applauded the centre and the university at large for the great opportunity given to them to know more about the operation of the university.
He said that looking at what NOUN stands for, "it is a blessing to Nigeria and Nigerians." 
Akinyoyese expressed their willingness "to know more and understand the university so as to lay our hands on the abundant opportunities the university comes with." 
Delivering the advocacy message, the director of the centre, Mr. Yusuf Abdullahi, appreciated the management of the commission for the opportunity given to them to showcase NOUN. 
In the history of the centre, Abdullahi said, this is the first advocacy campaign to the commission, highlighting the historical trends on the establishment of the university. 
Like other universities in Nigeria, the National Open University of Nigeria is regulated by the National Universities Commission (NUC), said Abdullahi, who added that despite being regulated by NUC, bodies like the Commonwealth of Learning and the African Centre for Distance Education (ACDE) also guide the affairs of NOUN. 
He explained that admission into the university is open as it is a continues process all year round. 
Answering a question from the audience regarding the issue of scholarship, the centre director stated that only prisoners at the Custodial Centres enjoy the privilege.
He therefore urged them to enroll themselves and their children or wards as the university is free of industrial action. 
Abdullahi rounded up by explaining that NOUN is the university of the 21st Century as the process of face-to-face interaction between the tutor and students is beginning to fade. 
Log in to post comments
44 views