By Inuwa Hamza Yunusa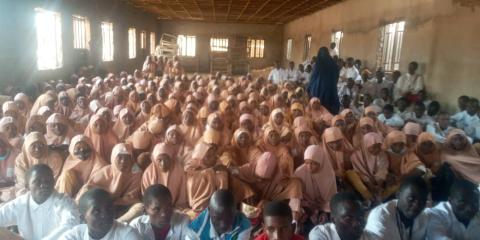 The campaign train of the Kaduna Study Centre, on October 24, 2022, rounded off its series of advocacy campaigns for the semester when it paid a visit to the Government Secondary School, Rigasa in the state capital.
The team was received by the respective principals of Senior and Junior Secondary School sections, Mrs. Fatima Binta Ismail and Mr. Garba Bawa Abdullahi.
In an interactive session with staff and students, the director of the Kaduna Study Centre, Malam Yusuf Abdullahi, said the team was at the school to inform them about the university so as to take advantage of what it has to offer.
"NOUN is like any other university in the country because it is being regulated by the National Universities Commission. Therefore, all laws applicable in other universities are also applicable in the National Open University of Nigeria.," the director said
According to him, the aim of the federal government in establishing NOUN was geared towards providing access to all in the country.
"The admission requirement is just as that of the conventional universities except that the Joint Admission and Matriculation Board Examination, which does not form part of the admission requirement.
NOUN has about eight faculties with host of programmes in Health Sciences, Agricultural, Arts, Management Sciences, Education, Science and Social Science," Abdullahi added.
The director urged the staff and students of the secondary school to quickly enroll as there are many opportunities to benefit from.
He thanked the management of the school for giving them the opportunity to speak to the congregation of teachers and the students.
The principal of the senior section, Mrs. Fatima Binta Ismail, appreciated the team for the visit and described it as timely.
She called for frequent sensitization about the university system; "how it operates, the courses it offers and admission process so that we and the students can become conversant with the system.
"This will enhance the level of understanding of the university by the community and students enrolment will be enhanced," Isma'il said.
Questions were entertained from the staff and students which mostly centred around the availability of courses related to their areas of specialization, school fees, NYSC and a host of others, which were substantially addressed.
Log in to post comments
87 views