Miriam Obierika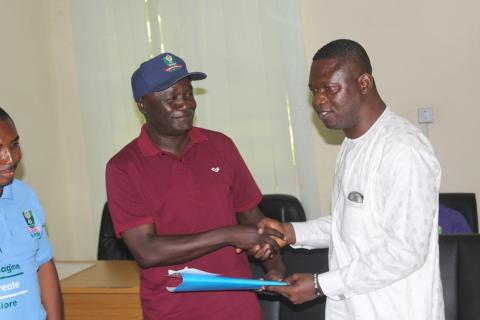 Prof. Saheed Ajibola has officially ended his tenure as the Dean, Faculty of Sciences of the National Open University of Nigeria (NOUN) and handed over the affairs of the faculty to the newly elected successor, Prof. Kolawole Lawal. 

A handover ceremony was held on Wednesday, October 13, 2022 at the faculty, NOUN headquarters, Abuja. 

The former dean, who served from 2020 to 2022, expressed his gratitude to the Vice- Chancellor, Prof. Olufemi Peters and the management of the university for the support given to him. 

He also thanked staff of the faculty for the opportunity given to him to serve in that capacity.

"Thank you for counting me worthy to be entrusted with this faculty for the past two years. The experience gathered here has built me for greater assignments," he said 

He also noted that in the past two years NOUN has grown significantly and set the bar as one of the best ODL institutions.

"Other higher institutions are seeking to learn ODL practices from NOUN because we are simply good at what we do," Ajibola added.

He congratulated his successor and wished him wisdom and ability to steer the faculty in the right direction.

Responding, the new dean, Prof. Kolawole Lawal, appreciated the faculty for placing their confidence in him. 

Lawal promised to deliver his best and, in turn, asked for the support of the staff to effectively run the affairs of the faculty. 

Earlier, the outgoing dean had presented awards of Excellence to all Heads of Department in the faculty for their contributions to the growth and progress of the faculty during his stint.

Goodwill messages were also delivered by staff of the faculty to the former dean.
 
Log in to post comments
17 views