By Joel Nkanta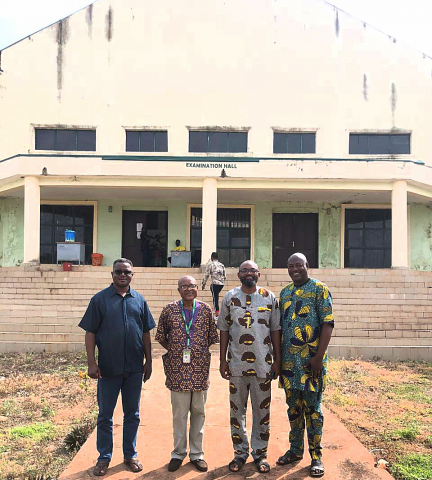 The centre director, Fugar Community Study Centre, National Open University of Nigeria, Fugar, Edo State, Prof. Jonathan Aliede, on Tuesday hosted the officials of Fugar Progressive Union (FPU) in his office.

The president of the union, Dr. Richard Anetekhai, who led the delegation of the FPU officials to the study centre, said they were at the centre for an on-the-spot assessment of the needs and challenges of the study centre.

Anetekhai commended the management of the university for keying-in to the fundamental need of the community in providing an opportunity for the youth of Fugar, who have hitherto been disenfranchised education-wise, to access quality university education at their very door step.

He observed that the policy of NOUN, as a university, goes in tandem with the aspirations of Fugar Progressive Union, whose vision is to ensure that the youths of the community have an unhindered access to university education.

The union president, while thanking the centre director for his "commitment to lifting the status of the centre in spite of obvious challenges," pledged the commitment of his union to fulfil its responsibilities in accordance with the partnership agreement governing the establishment of the community study centre between the federal government and the host community.
He assured that repair work would soon commence on the section of the roof of the examination auditorium recently blown away by rain storm.

While appreciating the efforts of the union leaders towards the maintenance of the centre, Aliede, who, along with his admin. officer,  led the community leaders on a facility tour of the centre, urged the community to look into other areas of the pressing needs of the centre.
The director highlighted some such pressing needs to include a utility vehicle, rewiring of the main auditorium that has developed faulty electrical connections and landscaping of the premises to prevent erosion encroachment.

He prayed the community to do more if the advocacy drive, undertaken by management and staff of the centre to pep up students enrollment must yield desired results.

Others at the meeting included Mr. Solomon Obomighie, Public Relations Officer, FPU, and Mr. Joseph Olufemi Akpata, Administrative Officer, Fugar Community Study Centre.
Log in to post comments
136 views